Another master piece from Eddie Kelly A Christmas Tale of Ale December 1924

********

Malt was in great demand in the 18th Century when every household brewed its own beer. Keighley's malt came from the Colne district, since the soil round Keighley is not suitable for growing barley.

Many of the pubs, Inns, hotels and beerhouses in Keighley were houses and not built designed to be pubs, but converted house or cottages. Many had land adjoining with out buildings, a completely different picture to what we often imagine. Once the licensing laws changed it became more common place for pubs and hotels to be purpose built, especially with the coming of the railway. Very few old pubs in their entirety still exist, the land being sold and or built on, stables no longer needed horses replaced by the motor car.
Before the once important to the town "Station Hotel" which stood at the top of Dalton Lane was demolished to make way for some concrete monstrosity, one could get an idea of a purpose built Hotel and the buildings that would be attached to it. There are now only a handful of remaining buildings in the town where we can get some idea of what a typical inn from the stage coach days would look like from the outside, the rear of the Hope and Anchor, out buildings now demolished, the area now a car park, but with some imagination and an old map we can paint an image picture in our minds. A wonder behind the Albert can also help us get an idea as can a peek behind the Grapes.

The precursor to the Beerhouse Act was the Licencing Act 1828, which established a "General Annual Licencing Meeting," to be held in every city, town, division, county and riding, for the purposes of granting licenses to inns, alehouses and victualling houses to sell excisable liquors to be drunk on the premises. The Act proved inadequate to rectify the heavy taxation then prevalent on small pubs and taverns, thus making it hard for them to operate.

The Beer House Act 1830 Any person with room in their front parlour could open up as a beer house for the sale of beer or ale only. No spirits could be sold. It enabled anyone to brew and sell beer, ale or cider, whether from a public house or their own homes, upon obtaining a moderately priced license of just under £2 for beer and ale and £1 for cider, without recourse to obtaining them from justices of the peace, as was previously required. The 1830 Act was colloquially known as "The Duke of Wellington's Beerhouse Act".

Once the mills started to allow all their filth in to the rivers which once had enormous stocks of different breeds of fish and crystal clear the water became undrinkable, beer being the only safe way to quench ones thirst.
I understand that a beerhouse was identified by hanging a brush head outside.

In 1869 beer houses were brought under the control of local magistrates. They had to improve the conditions to gain a license, many closed down. What were beer houses, known usually only by the land lords name, after 1869 they Acquired names, some pubs also changed their names for one reason or another, a few having the same name, only being distinguishable by the addition of hotel, inn etc.

New laws passed at the beginning of the twentieth century sounded the death knell for the beerhouse. The licensing Act of 1902 gave Licensing Justices the power to refuse licence renewal if premises were deemed structurally unsound or unneeded in the area.
These powers were extended by Balfour's Act in 1904, which made it even easier for pubs to be closed down. Existing licences became known as 'old on licences' meaning the 'Ante 1869 Beerhouse' was no longer immune from the licence renewal procedure. Furthermore, unwanted licences could be removed in return for compensation, which was raised by levying a charge on all existing 'on' licences in the area.
Drinking and its effects became a big problem as the population increased, and in areas highly populated by the Irish saw more than their fair share of fights and disturbances caused by the dreaded drink. A drinking fountain was provided in an attempt to provide refreshment for free, and to discourage people from entering the pubs, it was placed outside the Devonshire. The temperance movement in their attempt to dissuade people from this past time, which often deprived families of food as the husband, and some times even the wife would spend their wages on alcohol, so coffee shops were set up in order to provide a place where people could still have refreshment and socialise. The coffee house would sell not only coffee, tea but herb and fruit drinks of the day like sarsaparilla and would provide newspapers for the customers to read.
Pubs were often used to hold meetings of impotence to the town, coming of the railways, the canals and the reservoirs. They were also used for inquests so that people did not have to travel too far to attend. It is also rumored that the Fleece at Oakworth also had the village jail there.
Food would only be obtainable at the Hotels, crisps and nuts had not yet been thought off as a means to get people to drink more, you went to the pub to drink and socialise, and maybe acquaint yourself with some female company, the sort that you would not take home to meet your mother. One thing that does not seem to have changed over the years is being able to make an under the table deal in a pub.
Many provided entertainment, pianists, singers, dancers to name a few. Some even attempting to become "music hall" in the type of acts that they provided. The Angle putting on plays in the upstairs rooms.


Many of the Landlord names were taken from directories in the 1800's - early 1900's. The information here can not be guaranteed as 100% correct. If anyone as any information, corrections or photographs please email us.

Most of the information here as been very kindly provided by Eddie Kelly to whom we are very grateful. There is a lot more information than is shown here but we are unable at this time to show it. Eddie Kelly is a respected authority on pubs, beerhouse and the like from out past and writes many items for publications, including CAMRA. The artical he very kindly allowed us to use about the Grinning Rat makes for interesting reading and can be found lower down on this page.

History of pub signs bjcurtis.force9.co.uk
---
Airedale Craven Heifer, Sandbeds.
Built mid 1800's pub and barn. Named after the famous cow. Brear & Brown Brewers Hipperholme Acquired the pub in 1897
In 1830, the Airedale Heifer, fed by Mr. Slingsby at Riddlesden Hall, was killed. This wonderful animal was slaughtered in consequence of a severe contusion on one of her hind quarters, which turned to a mortification. The owner had 400 guineas offered for her, and was to receive one-half of the profits arising from her exhibition in England. She weighed 41 stones 12tbs. per quarter, 16fbs. to the stone, and measured 11 feet 10 inches from her nose to the stump of the tail, and 10 feet 6 inches in girth. She was 11 inches deep in fat on the ribs. A sketch of this beautiful animal was taken by the late Mr. John Bradley, a native artist, and an engraving executed at a considerable expense. Taken from Keighley Past and Present.
---
Albion Cycling Club, Halifax Road.
Would later become Steptoes
---
Albert Hotel Bridge Street


The present Albert replaced a smaller one in 1899. The new one boasted two smoking rooms a filling bar, vault, bar parlour, club room and a commercial room.

Acquired by T Taylor Brewer Keighley 21st Oct 1885
---
Angel Inn 27 Baptist's Square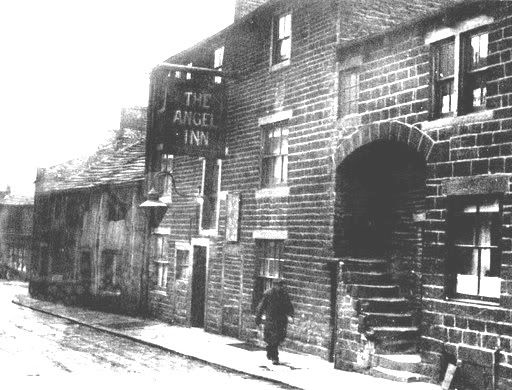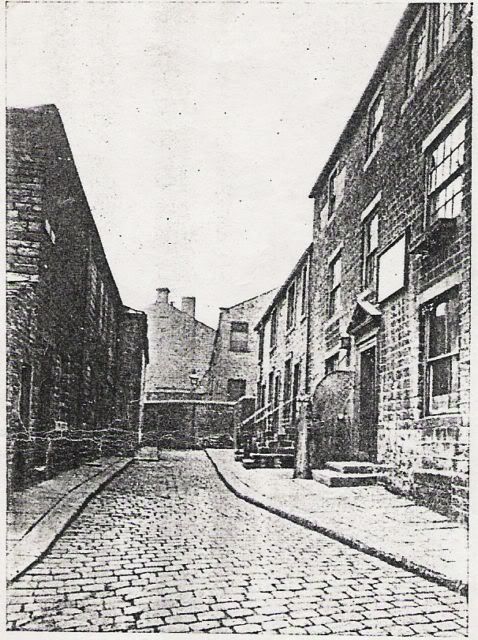 Photo below: Angel is down the road to the left of Emmott's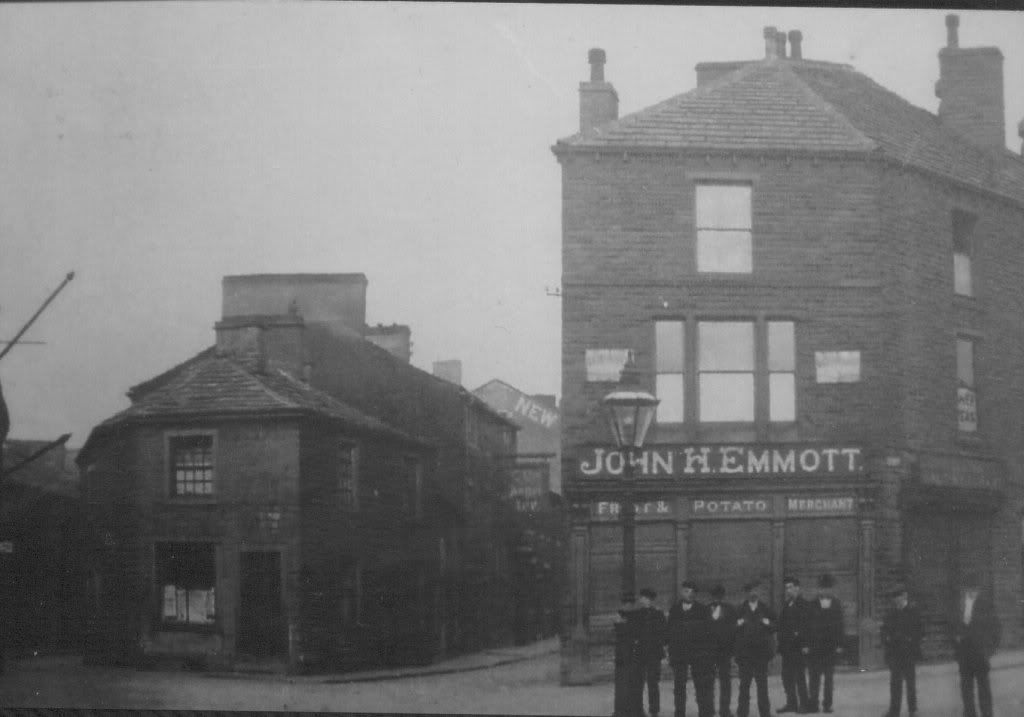 Angel

, 27 Baptist's Square, Landlord William Robinson listed in a trade directory possibly and highly likely to be the Angel in Turkey Street. The upper rooms were used for Staging plays.
Acquired by Scott & Robinson Brewers Skipton 29th April 1864 Conveyed to A King Brewer Keighley 5th Dec 1877 Free A King Brewer Keighley to W Cattle Brewer Keighley 16th Sept 1891 Acquired by J Walsh from W Cattle Brewer Keighley 1st Jan 1904 Sold to J Ogden Brewer Haworth 3rd Dec 1921.
At the rear of the Inn on Turkey Street directly across the other side of the road was the New Inn.
Top photo back of Angel on Turkey Street. Bottom photo is the front in Baptist Square, this very rare photo along with additional information was supplied by Eddie Kelly. The Angel is the grander building with the bollard outside and name board on the wall. This fully licensed pub had its fair share of notoriety over the years. It was I believe actually built by the overseers of the adjacent Baptist chapel in the days before they went over to the temperance cause. The bollard looks like an upturned cannon many of these used in the Crimean war were later used for this purpose.

llegal Hydropathic Practice.— Alleged Death from the Imprudent Application of Cold Water. — On Tuesday, the 19th of June last, an inquest was held on the body of Dinah Toothill, at the Angel Inn, Keighley, before Thomas Brown, Esq., Coroner.
In the face of the most convincing evidence of murderous treatment, juries continue to outrage the commonsense of mankind by returning the hackneyed verdict of " Died by the visitation of God." It would appear that the most powerful agents may be applied by the most illiterate of quacks, so as to occasion death, and yet the proper charge of manslaughter must, as in this case, be permitted to fall to the ground. The case of poor Dinah Toothill strikingly illustrates the insufficiency of legal enactments for the protection of human life, against the lethal weapons of quackery, and affords another instance of the danger of abusing a naturally innocent agent.
It was abundantly proved that a gross and fatal outrage on female decency was perpetrated by a hydropathic adventurer, he having for days personally subjected his patient, while menstruating, to the cold water " cure," (?) until death removed her beyond the revolting scene.
Evidence being adduced, in summing- up, the Coroner said that, in the whole course of his experience, he had never met with a more flagrant case than the one under consideration. He could not imagine any proceeding more repulsive to the feelings and more insulting to the decency of a woman than that of being taken out of bed and stripped naked by a man ; and this being repeated five times a day, made the circumstance doubly gross. He then instituted a comparison between the case of the deceased and that of Miss Catherine Cashen.
The latter was a patient of the notorious St John Long, who, by friction and the use of stimulating liquids to the back induced inflammation, terminating in sloughing, exfoliation of the spinal bones, and subsequent death. The friends of the lady brought an action against the quack, which was tried twice.
In both trials he was found guilty, the judges deciding that "an illegal practitioner exposing the person of a female for the purpose of applying his remedies was guilty of a common assault; and if death followed upon the administration of the remedies he was guilty of manslaughter." He (the Coroner) in conclusion mentioned these facts, as they pointed out the law on the subject in a manner not to be misunderstood. It was for the jury to consider the whole of the evidence, and frame their verdict accordingly.
After a few minutes' conference the jury returned a verdict of "Died by the visitation of God."
Dublin Med. Frets, September 19, 1849.
---
Aaron King Brewery, Cook Lane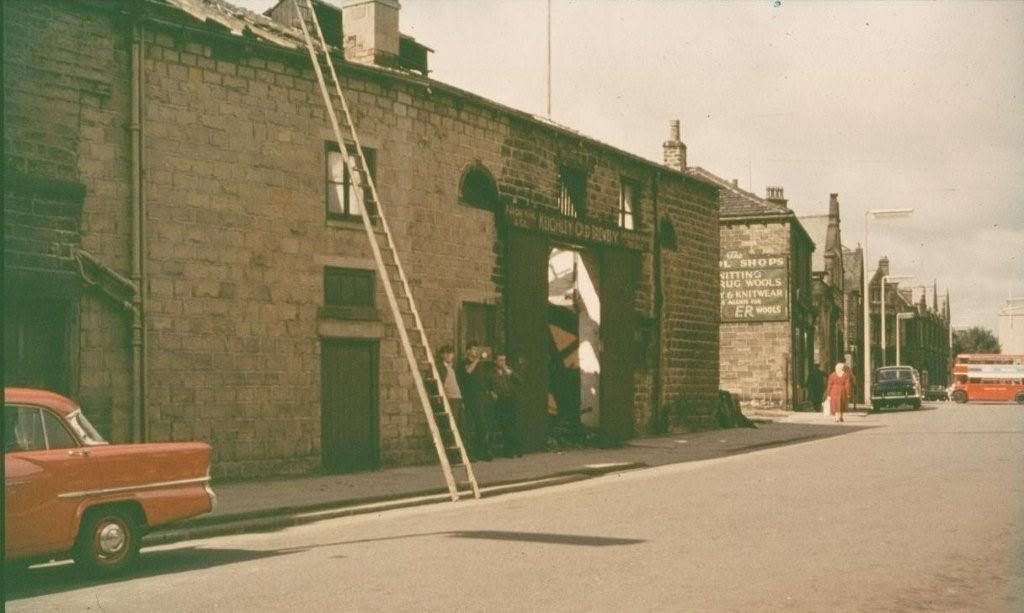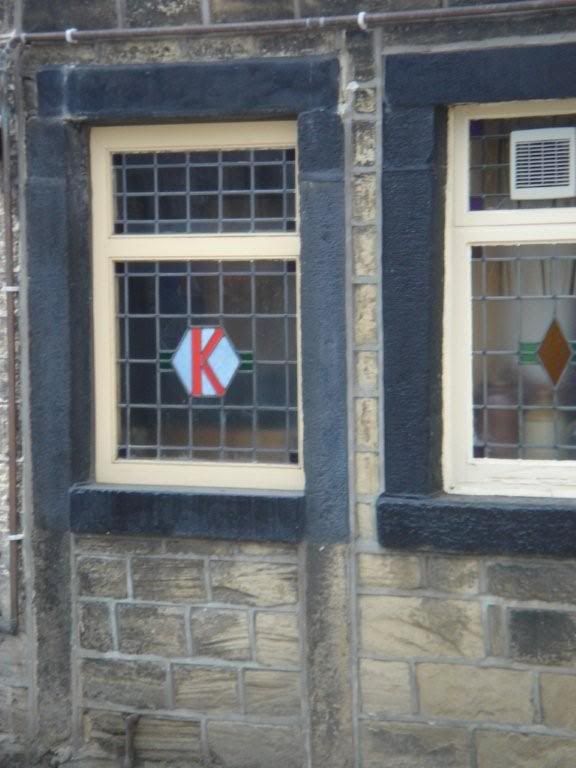 Thanks to Keighley History Society for the two photos on the left, the photo in the middle is from the Turkey but shows the K used in the glass of their pubs.
---
Bay Horse, Westgate area
Demolished during the clearance of the slums of Pinfold and Westgate.
Acquired by JR Holmes Brewer Bradford 4th May 1866
---
Beaumont Arms. There was listed a Thomas Beaumont, 31 High Street as a Wine & Spirit Merchants, in the Pigot's Directory of 1834 It was also known as the Sun and after the Exchange Vaults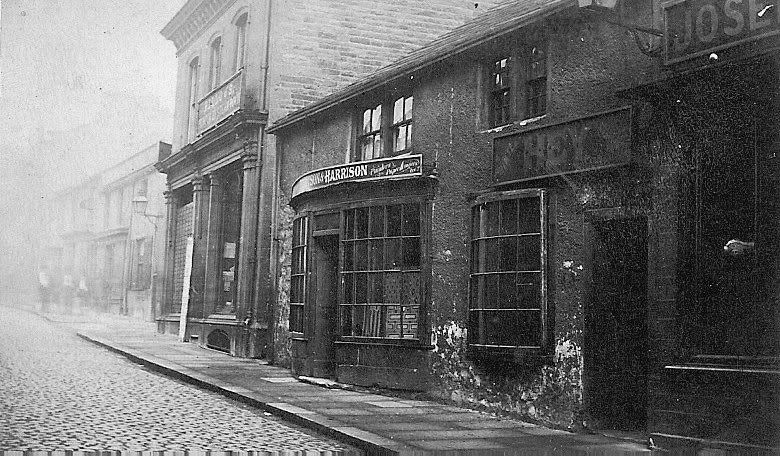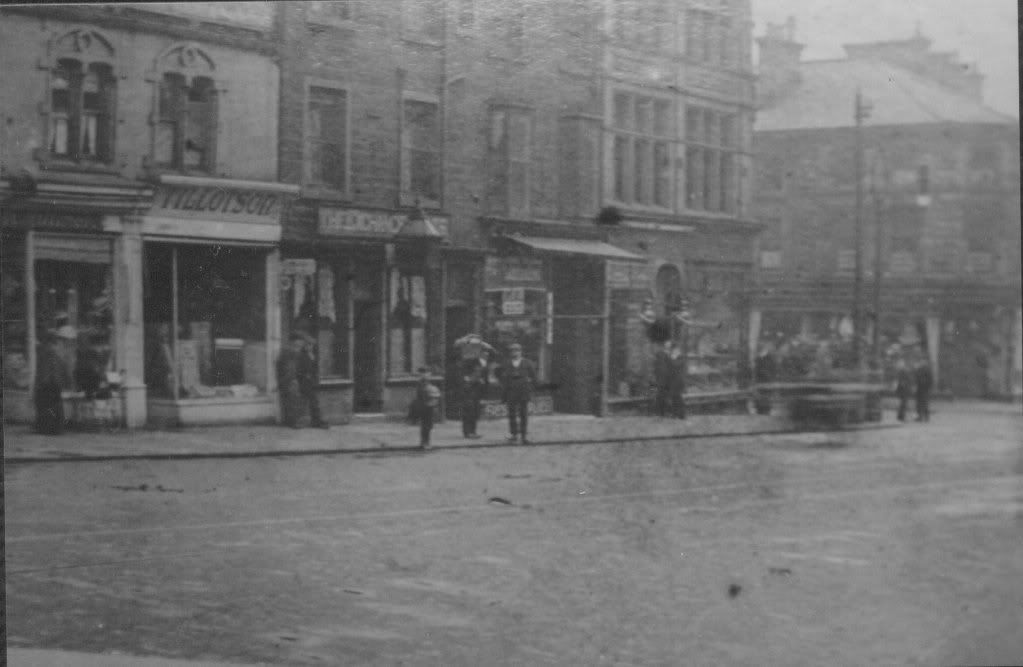 ---
Beaconsfield Cycling Club, Worth Village. Landlord mid 1900's George Petyt
---
Blue Bell. a Beerhouse in the Leeds Street, Turkey Street area its more recent name prior to closure The New Inn, closed 1869
---
Black Bull, Old Bridge St. 1829 Landlady Elizabeth Ackroyd. Landlords James Ramsden, - Jas. Laycock
---
Black Horse, 5 or 6 Low Street Landlords Francis Topham, - Jno Corlass. 1881 John Shuttleworth. Martha Cook was landlady, she was also the postmistress 1785 - 1833, she was daughter of the first. postmistress Mrs. Irvin. The family ran the post. office in Keighley for 127 years. Letters from Bradford arrive at 8 in the morning, are dispatched at 1/2 past 1 at noon ; from Skipton, arrive at 1/2 past I day, and are dispatched at 8 in the morning. In the late 1800's Keighley Cricket Club and Keighley Rugby club used the Hotel as headquarters.
Acquired at auction by T Ramsden Brewer Halifax 15th Feb 1899 Acquired by J Tetley Brewer Halifax 22nd Dec 1965
---
Blue Nag. Mention is made of this place in a pamphlet entitled "Outcast Keighley" printed around 1880. We had no idea at first if it was a beerhouse or a nick name for a pub. We now have the answer to this but for now we are keeping this information to ourselves, but if you check back in a few months we will be able explain why. Watch this space as they say.
---
Boltmakers Arms 117 East Parade.
Small GBG- listed pub, Conveyed to J Knowles Brewer Denholme Gate 8th May 1872 J Wood Brewer Allerton Acquired Mortgage 26th Mar 1885 T Taylor Brewer Keighley Acquired Mortgage 1895.
Since 1994 to present the landlord is Phillip Booth who comes from a long line of local inn keepers, his father Brian Booth lived at The Great Northern and took over Shackleton & Sagers Mineral Water Manufacturers on Hainworth Wood Road. Until demolished in the late 80's. Phillip Booths Grandfather was the landlord of the Great Northern (see notes referring to the Great Northern). Phillip's brother Simon also informs us that the family tradition still continues as Phillips daughter Laura is also licensee at the Friendly. Is four generations in the same town a record?
---
Bradford Arms Wellington Street.

Acquired by JR Holmes Brewer Bradford 28th July 1865 Acquired by Hammonds Brewers Bradford 5th Nov 1919
---
Brewery Arms Longcroft
---
Bridge Inn Bridge Street,
| | |
| --- | --- |
| | Demolished 1938 Conveyed to Woods Brewers Denholme 9th June 1891 Acquired by Boardmans United Breweries 7 Sept 1896 Leased to Strettons Brewery Derby Acquired by Bentleys, Yorkshire Breweries 6th July 1921 |
---
Bridge Inn, Stockbridge. Landlord 1881 Ann Garnett. Acquired by W Whitaker Brewer Bradford 7th Jan 1891
---
Brokers Arms, (Albion Cycling Club), Damside.
Information from Eddie Kelly: Closed down by the magistrates along with several other beerhouses. The excuse for closure was a suggestion that several years previously the beer house keeper had been intoxicated while on the premises.
Beerhouses were outside the remit of the local magistrates until the Brewster sessions of 1869 when they were brought into line with fully licensed premises. Some time later the premises were used as a club eventually becoming the Albion Cycling Club at the junction of Damside/Oakworth Rd. Following demolition in the 1960's this club relocated to Halifax Rd eventually turning the clock full circle and obtaining a pub licence known as Steptoes!
---
Brown Cow Cross Leeds Street
| | |
| --- | --- |
| browncowkeighley.co.uk | Conveyed to J Knowles Brewer Denholme Gate 17th Sept 1873 Previously known as Brown Cow Home Brewery Mortgaged to Scott Brewer Skipton 6th Aug 1900 Previously mortgaged to A King Brewer Keighley Acquired by T Taylor Brewer Keighley 14th Dec 1901 |
---
Brunswick Arms. Brunswick Street. Acquired by A King Brewer Keighley 2 June 1878 Acquired by W Brown Brewer Haworth 25 Oct 1881 ex A King Acquired by T Taylor Brewer Keighley 25 Nov 1891

---
Burlington Arms Market Street,


Landlords Jonas Ellison, 1861 William Hey Inn keeper and gardener. Leased to Alexander Bell Brewer Barrowford 1857 (20 years) Acquired by T Taylor Brewer Keighley 6 Nov 1877.

Market Tavern,

(not to be confuesed with the Market Arms) Denbigh Square. was alternative name for Burlington Denbigh Sq
---
Cavendish Hotel Cavendish Street.
| | | |
| --- | --- | --- |
| | | Built 1900. Site Acquired by T Ramsden Brewer Halifax 26 July 1899 Acquired by J Tetley Brewer Halifax 22 Dec 1965 |
---
Commercial Inn 16 Church Street


1870 Leased by S Taylor Brewer Manningham Acquired by White Horse Brewery Keighley 4 Mar 1879 Acquired by Scott Brewers Skipton 15 Mar 1897 Sold to Bentleys Yorkshire Breweries 1 Oct 1912

Landlords Joseph Lapish. 1881 James Holdsworth. 1902 Mary Ann Houldsworth.

One landlord William Weatherhead, recorded as landlord in 1829, his daughter, Nancy, married John Clough snr. of Grove Mill, and became the mother of Sir John who in turn married Thamar Smith, the daughter of Prince Smith of Holly House.

---
Cricketers Arms Coney Lane Landlords 1871 & 1881 John Foster from Harum, York, England, Beerhouse Keeper living at 23 Coney Lane. Acquired by T Taylor Brewer Keighley 22 Nov 1869

keighley.plus.com
---
Cross Inn, Haworth Closed 1907 Acquired by Ogden Brewer Haworth 19 Jan 1899
---
Crossroads Inn. Acquired by D Fielding Brewer Bradshaw 21 Jan 1869
---
Crown, 21 Church Street Landlords John Ellison, 1880 Joseph & Hannah Turner. Coaches that called here: To Bradford, the Mail Car - To Halifax, the Union Demolished in 1989. The town drinking fountain was located outside.

---
Devonshire Arms (Hotel), Church Street.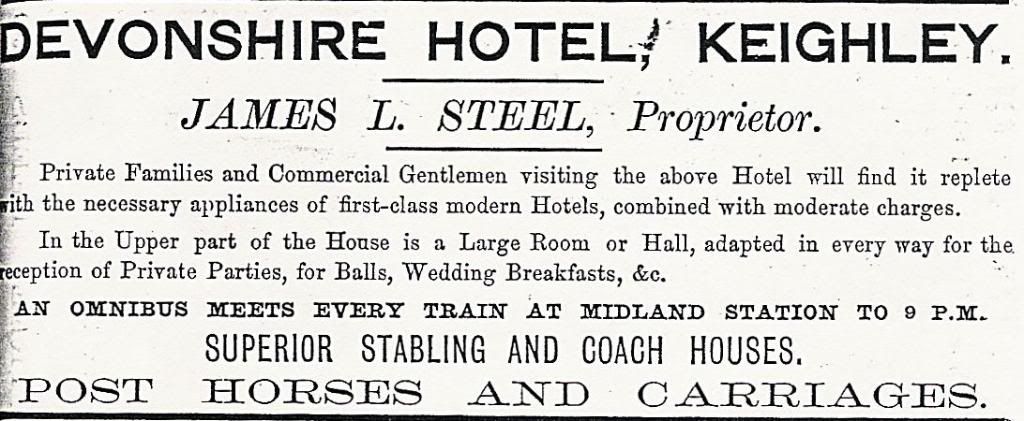 Landlords Samuel Morgan. T. Ecroyd was proprietor 1884 (post chaise) : To Kendal, the Union - To Leeds, the Union - Invincible (from Preston) Possibly on the site of the old Roebuck Inn) (Red Buck)

Free Bought by Corporation ex Duke of Devonshire 6 Jul 1897.
The Devonshire seems to have been very much the center of activity, not only was it a coaching Inn, it is mentioned time and time again in news papers, meetings held, auctions of property and the like.
---
Dick Hudsons ~ The Fleece, East. Morton, Keighley. Named after the Cricketer.

---
Druids Arms Thwaites Brow Road
---
Dusty Miller, Dam side Landlord 1822 Thomas Ackroyd, Is listed under Inns and Taverns in Baines's Directory and Gazetteer Directory of 1822. We now know that there were more than one pub/beerhouse of this name, more information will be provided at a later date.
---
Eastwood Conservative Club, Dalton Lane.
Built in the second half of the 19th century as a chapel. Eastwood Conservative Club closed early 1990s
---
Eastwood Tavern 39 Bradford Rd.
| | | |
| --- | --- | --- |
| | | Acquired by Booth & Ogden Brewers Brighouse 10 Feb 1875 Acquired 1 May 1880 by A King Brewer Keighley ex Booth & Ogden Acquired at auction by T Taylor Brewer Keighley 23 Jul 1935 |
---
Exchange Vaults, High Street. descended from earlier inn - The Sun, was also know as Beumont Arms before becoming Exchange Vaults. Information via Eddie Kelly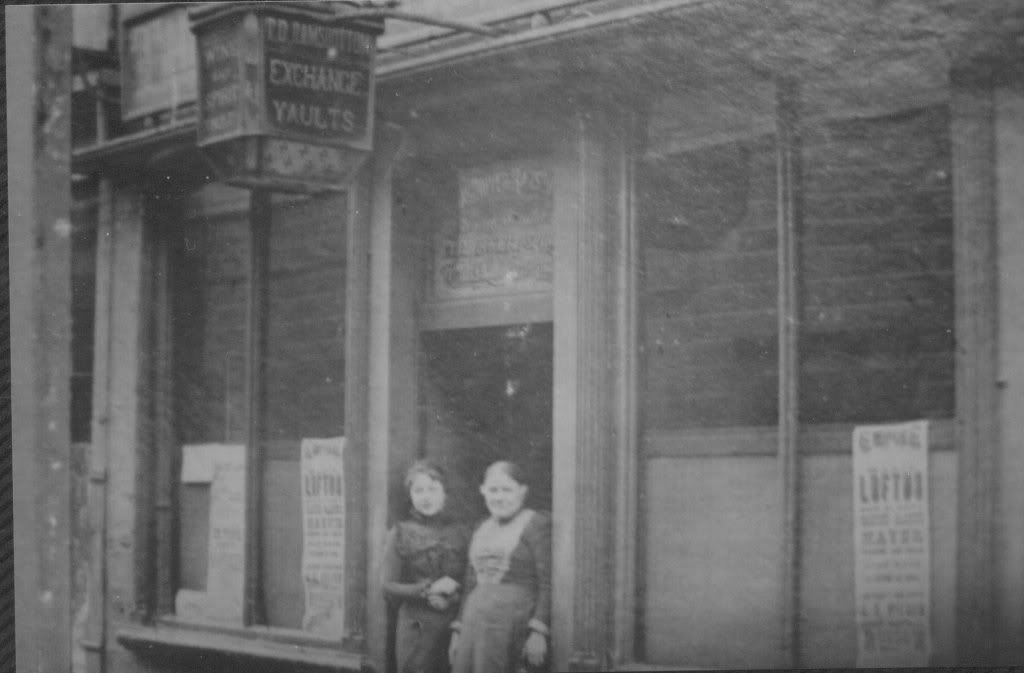 ---
Ferndean Manor also known as Moor Lodge and is now Scar Top Pine. Two Laws Road.
Awaiting verification
---
Flappit

---
Fleece, 98 Low Street. At one time called the Black Bull
Landlord John Walker. Coaches that left or called here: The Tradesman for Bradford. The Wonder to Halifax. To Scarborough, the Royal Alexander - To Skipton, the Mail car. John Demaine was licensee for six years late 1840's - 1850's.
Demolished in 1934 (Marks and Spencer now stands here) Kirkstall Prize Ales. In the 1820's it was used as a meeting place for a woolcombers club.
Acquired by W Brown Brewer Haworth 14 May 1890 Ex J Walsh Acquired by Kirstall Brewery 1st Feb 1893 Ex W Brown Haworth
John Hodgson tells us that William Carr 1790 first lived in house that stood where the Fleece Inn stood and was here for around eight years as a jobbing blacksmith and whitesmith. who is mentioned above living at where the Golden Fleece once stood moved to a house that would later become the Golden Lion Inn in 1798.
---
Fleece, Lane ends Oakworth,
---
Golden Fleece at Oakworth is a long established inn known by that name as early as 1822 when John Weatherhead was landlord.
Landlord John Birtwhistle mid 1800's. It is believed that the village lock up was in the cellar. Now called the Golden Fleece. Leased by W Cattle Brewer Keighley 1888 Acquired by Brear & Brown Bewers Hipperholme 31 Aug 1896 Acquired by R Whitaker Brewer Halifax 21 May 1920
---
Foresters Arms, Bridge Street. Oakworth. Closed in 1970. Re-opened in 1971 as the 'Fab Thirties Club'. closed in 1974. Now houses. Acquired by White Horse Brewery Keighley 16 April 1884 Acquired by Scott Brewers Skipton 15 Mar 1897 Sold to Bentleys Yorkshire Breweries 1 Oct 1912
---
Fountain Inn 18 Church Street.

Now the Red Pig. On 13 Mar 1901 the Keighley News reported the death of Charles Wadsworth, aged 40 as living here.

Originally Named Hole In Wall Acquired by J Knowles Brewer Denholme Gate 8 Nov 1852 Acquired by T Taylor Brewer Keighley 3 Dec 1884
---
Freemasons Arms, See Masons Arms Sarah Fowlds, 81 Low Street.
---
Friendly Inn 2 Aireworth Street.
Acquired by T Taylor Brewer Keighley 16 Dec 1887

Information from Allan Smith: Tommy and Audrey Naylor left the Stewardship of the Ingrow & Hermit Hole Conservative Club to become Licencees of the Friendly on 04 November 1976.
Laura Booth is the present licensee, she is from a long line of Keighley landlords, for more information see the entry above for the Bolt Makers
---
Gardeners Arms, Hanover Street.


The premises were first noted as being used by a beer retailer in 1848 & closing in 2012 total 164 years. A prosperous house between the wars. One licensee took over the pub in 1913 remaining until his death in 1936 then succeeded by his widow who remained until 1954 an incredible 41 years!
Acquired by J Knowles Brewer Denholme Gate 18 Oct 1881 Acquired by J Wood Brewer Allerton 31 Dec 1884 Acquired by Boardmans United Breweries 7 Sept 1896 Leased to Strettons Brewery Derby Acquired by Bentleys Yorkshire Breweries 6 July 1921
At closure the pub was owned by pubco Admiral Taverns but previously by Whitbreads who acquired the pub with the Bentleys Yorkshire Breweries business towards the end of the 1960's.
---
Globe 2 Parkwood Street or 7 Park Lane.


1881 landlord Robinson Craggs from Bucknall, Lincoln. Acquired by H Thompson Brewer Keighley 4 Jan 1873 Acquired by Great Northern Railway 7 Oct 1883 Acquired by A King 14 Jan 1889 ex Great Northern Railway Co Acquired at auction by T Taylor Brewer Keighley 23 Jul 1935
---
Goats Head Inn. Steeton

---
Golden Fleece.
Stood at the corner of Low Street and Cook Lane prior to 1845. John Hodgson tells us that William Carr, Reed and Heald maker, native of Scorton near Preston in an attempt to make his fortune as a mechanic moved to Keighley taking a house in 1790 where the Fleece now stands, at this house he had his mechanics shop and smithy and was there for about eight years.
The Fleece (site of Marks and Spencer's) had a sun dial dated 1782 and there does not appear to be an opening that William could have used for hauling his work up to the upper floor that John Hodgson asks us to look for so we must assume that he meant William Carr lived at the Golden Fleece.
Purchased at the sale of the Parker property in Keighley by the agent of Lord George H Cavendish proprietor of the Devonshire Arms to do away with the rivalry between the two inns.
From KEIGHLEY PAST AND PRESENT The annexed inscription or device which was to be seen on the front of an old house, standing at the corner of Low-street and Cook-lane, prior to 1845, will be recognized by many of the, inhabitants as an old and familiar acquaintance. This building was a part of the "Golden Fleece," or Head inn, and was purchased at the sale of the Parker property in Keighley, by the agent of Lord George H. Cavendish, proprietor of the "Devonshire Arms," in order to do away with the rivalry which had previously existed between the two inns. It was erected, as shown by the initials and date, by Robert Parker, in the year 1697.
Before 1930 when a shop (see photo), was known as Groves Corner, the 18th century building being knocked down that year, this building would have been the Golden Fleece.
---
Golden Lion, 105 Low Street
William Shackleton was landlord. John Hodgson tells us that William Carr 1790 first lived in house that stood where the Fleece Inn stood and was here for around eight years as a jobbing blacksmith and whitesmith. who is mentioned above living at where the Golden Fleece once stood moved to a house that would later become the Golden Lion Inn in 1798. 1798 John Hodgson tells us that he went to live at a house which later became the Golden Lion and that the house was most likely built for him as the top storey formed his workshop and anyone passing up or down Low Street may see in the top room of his house a crane doorway, now walled up. He had his smithy behind the house. 1818 William Dean cabinet maker occupied the house. So it would be a few years after 1818 that it would be turned over to drinking.
From Eddie Kelly: The pub was privately owned but tied by agreement to Aaron King & Co for draught beer. Following closure in December 1920 the building was subsequently bought by John Simpson Driver & used as a grocers shop for many years. Now occupied by Greenwoods menswear. There had been a rampant lion above the door and is I believe still preserved in store at Cliffe Castle. Abraham Bland was a club steward in Shipley before coming to the Golden Lion. He left late 1905 & was succeeded by Harry Riley. He was a professional cricketer with the Keighley club. Harry Riley was followed in 1909 by another sporting legend of that time Gomer Llewellyn Gunn who played rugby for the Keighley Northern Union team but had earlier been a Welsh Rugby Union International before heading north joining Wigan & later Bradford. The sporting connection continued when George Chaplin a full back with Bradford City Football club took over the licence in 1913 remaining for about a year before Harry Riley reappeared following a stint with Colne Cricket Club.
Free Aaron King Brewer Keighley Leasing 1901.
---
Grapes, High Street. 1880 Jonas Crossley. Mortgaged from A King Brewer Keighley 23 May 1891 Acquired by Ilkley Brewery March 1896 ex A King Brewer Keighley


---
Great Northern 12-14 Halifax Rd

Barmaid Joyce, Landlord and landlady Mark and Mary Gunning

Built in the early 19th century, just after the opening of the Keighley-Halifax turnpike, extended into the two cottages next to it and changed its name c.1884.
Acquired by Scott Brewer Skipton 3 March 1900 Sold to Bentleys Yorkshire Breweries 1 Oct 1912.
Mark and Mary Gunning took over when the White Horse Closed. The Gunning's succeeded Danny & Edith Simpson, and possibly Ned Booth may have been before them. The son of Ned Booth,

Brian Booth lived there and took over Shackleton & Sagers Mineral Water Manufacturers on Hainworth Wood Road. Until demolished in the late 80's.

Somewhere along the line was Jack Barry. Mark Gunning used to say that John Waddington, who once kept the Great Northern, had won it on a wager at a clay pigeon shoot.
John Wardley succeeded Mark Gunning at the Great Northern Inn on 08 Feb 1971.
Thanks to Allan Smith for some of the information and photo.
---
Grinning Rat, New Street.
The Tale Of The Rat: By Eddie Kelly All about the Grinning Rat
---
Guide Inn, Hainworth. Opened 1930. Built by Aaron King brewers Keighley to replace Springfield House
Information from Eddie Kelly: Seems the correct name for the beerhouse was Springfield House but was more usually known locally as T'Owd Gormless - it was never fully licenced.
It was located lower down the hill from the Guide on the Cullingworth Road. It was eventually acquired by Aaron King who built the pub known during building as The Springfield Hotel.
The new pub was built on ground known as the Guide Field. It was renamed The Guide prior to a licence being granted one condition for the new licence being the surrender of the Beer House Licence at the Gormles (Springfield House). All this happened 1929/30. The original beerhouse gradually fell into disrepair and was completely derelict. One further point - there used to be a large mural painted on the whole of one wall of the Guide (may still be there). that depicts a walker coming over the hill & spotting the new pub exclaims 'I'm not as Gormless as I look' no doubt reflecting the fact that what was then a major Inn growing from a humble beerhouse. I have heard tell that because this was once a major route and also rather bleak being surrounded by moorland that the pub used to light up the windows and leave them lit all night in order to guide lost travelers.
---
Hare & Hounds, 31 Low Street on the corner of Wellington Street demolished 1966. Hey's ales. Landlords Benjamin Mellor, - Beecroft Booth 1871 Martha Hays hotel keeper 1881 David Hall. Tordoff Brewer Bradford Acquired 30 Sept 1896 Acquired by J Hey Brewer Bradford Apr 1919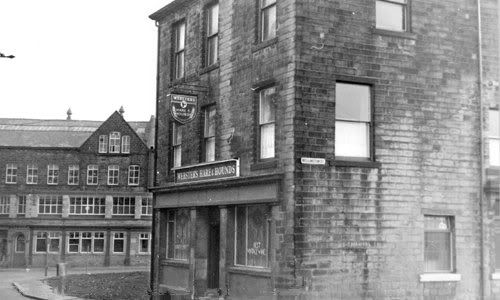 ---
Hay Maker Hotel, 88 Market Street. This hotel is marked on the 1878 map, it seems to be a long building running from the opposite side of the road from Sloe Street going right back to the Grave Yard. The name given in the 1871 census was Hay Market Hotel, this was a mistake by the enumerator. Henry Smith listed as Beerhouse keeper. We seem to have some work to do here, it now seems there is a possibility that both these places existed, whether they existed at one and the same time we have yet to establish.
---
Herders Inn, Colne Road
| | |
| --- | --- |
| | Information from Eddie Kelly: Earlier name was The Oldham Arms. An OS map sheet 95 for Blackburn & Burnley dated 1967 shows the pub name as The Oldham Arms. A note in respect the pub made in 1915 when the name was given as The Odham Arms and owned by the Oakworth House Estate, this would have been in the times of Sir Isaac Holden. |
---
Hole in the Wall, Church Street (Market place) 1829 landlord Thomas Corlass,
---
Hope & Anchor (Hope Street) 245, South Street.
1829 Martha Edmundson & Joseph Edmundson. Free: 1870's Leased by J Knowles Brewer Denholme Gate Conveyed to J Cattle Brewer Keighley 29 Dec 1877 Acquired From W Cattle Brewer Keighley 26 Oct 1903 Acquired by R Whitaker Brewer Halifax 20 June 1922. Closed and put up for sale summer 2009.

---
Boltmakers, rates went on size so we know from that the Horse and Jockey must have been a small beerhouse. There is no doubt that it was on Greengates, as was the building pictured, it was local historian Clifford Whone that came to the conclusion that this building was the Horse and Jockey, and that it had once been Cabbage House. So for years this sad old building as been assumed to be Cabbage House and the Horse and Jockey, and it was neither. We have yet to find out what this house was, but we are 100% sure it was not Cabbage House or The Horse and Jockey, after much research we located where Cabbage House once stood.
We know that the pub had a reputation because in 1869 at the Keighley Brewster Sessions John Smith the landlord was refused his license due to it being used by prostitutes, he himself also lived with one.
Information from Eddie Kelly re Horse and Jockey: don't have much on this other than the beerhouse didn't seem to exist in 1862 but was operating as such in 1865 kept by James Hayward. Francis Berry was in charge in 1866.
He also seems to have moved on as in 1867 the keeper was John Smith but more importantly a local poor rate book suggests the premises were owned by Thomas Corlass & Co. I suspect the rapid turnover of beerhouse keepers suggests the pub wasn't particularly busy. John Smith was still there when the pub was closed following the Brewster sessions held in 1869 when for the first time magistrates were given jurisdiction over controlling beerhouses. They used these newly granted powers to close down many beerhouses using 'haunt of prostitutes' as a common reason. This was the reason given for closing the Horse & Jockey, New Inn Turkey St, Dusty Miller Damside, Prince of Wales Parker St and the Farmhouse (aka Horse & Trumpet) beerhouse at Utley.

Below are snippets we have gathered from various books and articles and we leave for your perusal.


The house in the photo. Demolished 1962. It is believed that it was once build for and the home of a mill owner, three storey Georgian style, so possibly built at the start of the industrial revolution.

It was empty for a number of years after being used on and off as a lodging house. It was also used for storing patterns for for Jonas Wells foundry. The last occupiers were Sagar and Broughton cart cover makers, and the upstairs used by a small engineering firm (taken from Keighley News Images of Keighley).

If any one owns "Keighley in the 1930's & 40's by Ian Dewhirst, the aerial photo of Greengates shows the front of the building, by using the map on the left you should be able to identify the location.

The building shown was a fine three story house, which when built would have been very grand, it is possible that it was built by an early Greenwood, and we must not dismiss the fact that it could have been the first Cabbage House before Greenwood bought the land.

From the Keighley News 12/01/1962
Horse and Jockey Inn May once have been the home of mill owner THE derelict three-storey Georgian building which is being demolished in Greengate to make way for a foundry for Jonas Wells Ltd., brassfounders, Keighley, may once have been the home of a prosperous mill owner, then a public house of ill repute, an engineering works, and finally a storage place. The building has mainly been noted as the Horse and Jockey Inn, but there are apparently no photographs in existence of it when used as a public-house, nor is there documentary proof that it was, in fact ever an inn. Tradition has persisted that this building was, however, the Horse and Jockey. When it was built and by whom is also a mystery, but it may well have been the home of a mill owner. The area is predominantly occupied by factories and owners of early cotton and wool mills often lived on or near their works.
CABBAGE HOUSE?
For instance, Mr. John Greenwood erected a mill in Greengate it the beginning of last century and built himself Cabbage House. This may possibly be the house. An old map shows an open area in front of which could have been a garden. In later years the area would lose its appeal as a residential district and the house is then thought to have been converted into a public house. Mr. Clifford Whone, the Keighley historian, has been told it was a public-house about 1889, but extensive research at Keighley Public Library has failed to find any mention of the inn in old Directories listing such premises. That there was a Horse and Jockey in Greengate is certain for the "Keighley News' in 1869 reported a meeting of the Brewster Sessions when application for a licence was heard.
LICENCE REFUSED
The report stated: "John Smith, of the Horse and Jockey, Greengate, next came forward. Supt. Gill said it was a house similar in character to those which licences had been refused. Sgt. Ellison said he always found prostitutes there and the applicant himself cohabited with one at the present time. He had cautioned the applicant. Smith said he had never been cautioned and did not keep disorderly characters in his house. Application refused." Mr. Whone understands that the Horse and Jockey later became a lodging-house. He can remember going up the outside steps, which were built on to the gable end, up to the top storey about 1900 in an errand for his lather. At that time the top storey was used by a small engineering firm. He is certain that the building has not been occupied since about 1920.
---
Horse & Trumpet, Utley. beer house
---
Joiners Arms beer house at Sykes Head
Information from Eddie Kelly: Owned & kept by John Craven (former occupation - joiner) which seems to have commenced business about 1863/4 but was closed down at the licensing sessions in 1870 following a complaint of drunkenness at 10 at night earlier in the year. In an effort to off-set the effects of this offence Craven did try sub-letting the pub with no success. The un-licensed premises were offered for sale during October 1870.
---
Keighley Cycling Club, Cavendish Street.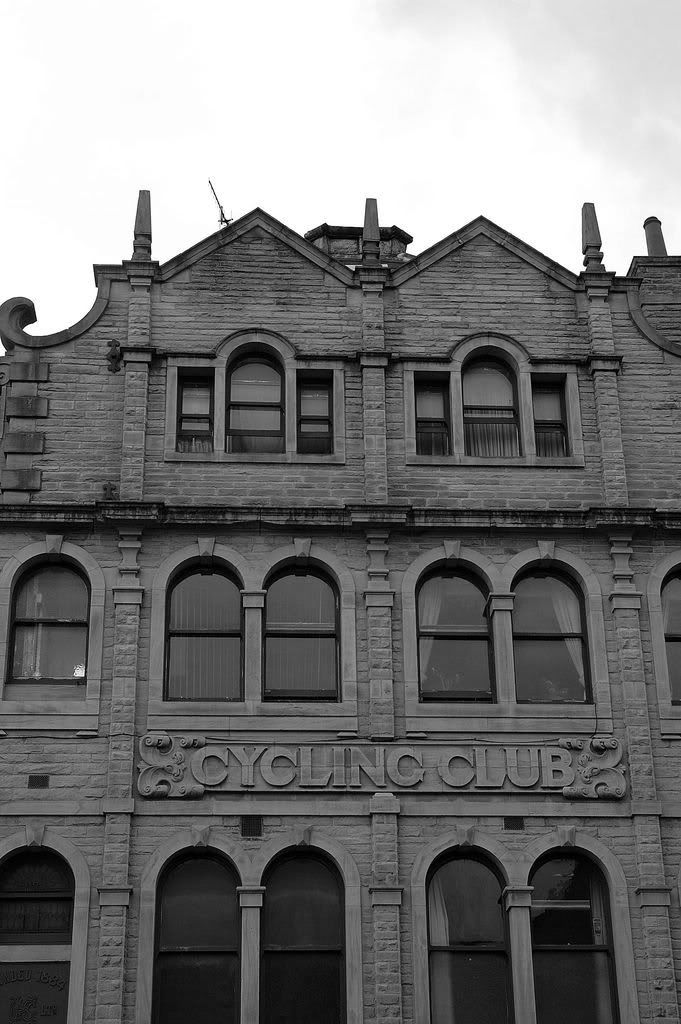 ---
King's Arms,35 Church Street. Once an old coaching inn. Demolished in 1960's. Landlords Joseph Booth, 1880 Levi & Sarah Driver. Acquired by J Knowles Brewer Denholme Gate 31 Oct 1876 Acquired by J Wood Brewer Allerton 24 Mar 1885 Acquired by W Whitaker Brewer Bradford 11 May 1905. There is suggestion that this was once called The New House Inn. A date stone that was on the building gave the date 1743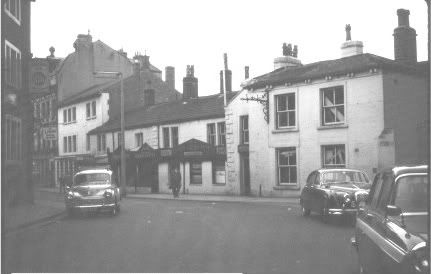 ---
Kings Head South Street. Acquired by JR Holmes Brewer Bradford 19 Aug 1872 Acquired by Hammonds Brewers Bradford 5 Nov 1919


---
Lord Rodney, Church St..

The oldest pub in Keighley. Believed to have originated in the 17th century Before 1780 was called Ye
Olde Red Lion. A former Landlord in the 18th century, John Drake was said to be related to Sir Francis Drake (to be proved). At some point in the late 1700's the inn was sold to a John Clapham for four hundred and fifty pounds, this also included a dwelling house, which was occupied by William Fox 1839 William is listed as landlord. William Fox & Elizabeth Fox. 1880 Joseph Whitewham.
While digging, in 1936, workmen unearth a skull and some bones out side the inn. As a church stood near by for over 800 years, it must be assumed that the line of the church wall was altered during renovations and rebuilding, and that the inn is built on part of the old grave yard. Free Leased until 1922 by T Ramsden Brewer Halifax Acquired at auction by J Tetley Brewer Leeds 26 Sept 1957
---
Malt Shovel, Leeds Street. Acquired by H Thompson Brewer Keighley 12 Sept 1872 Acquired by Scott Brewers Skipton 15 Mar 1897 Sold to Bentleys Yorkshire Breweries 1 Oct 1912
---
Market Arms, Denbigh Square. Porter Vaults became Market Arms
---
Market Tavern, Denbigh Square. was alternative name for Burlington Denbigh Sq.
---
Marquis of Granby Isaac Wilkinson 1834. Acquired by A King Brewer Keighley 15 Nov 1892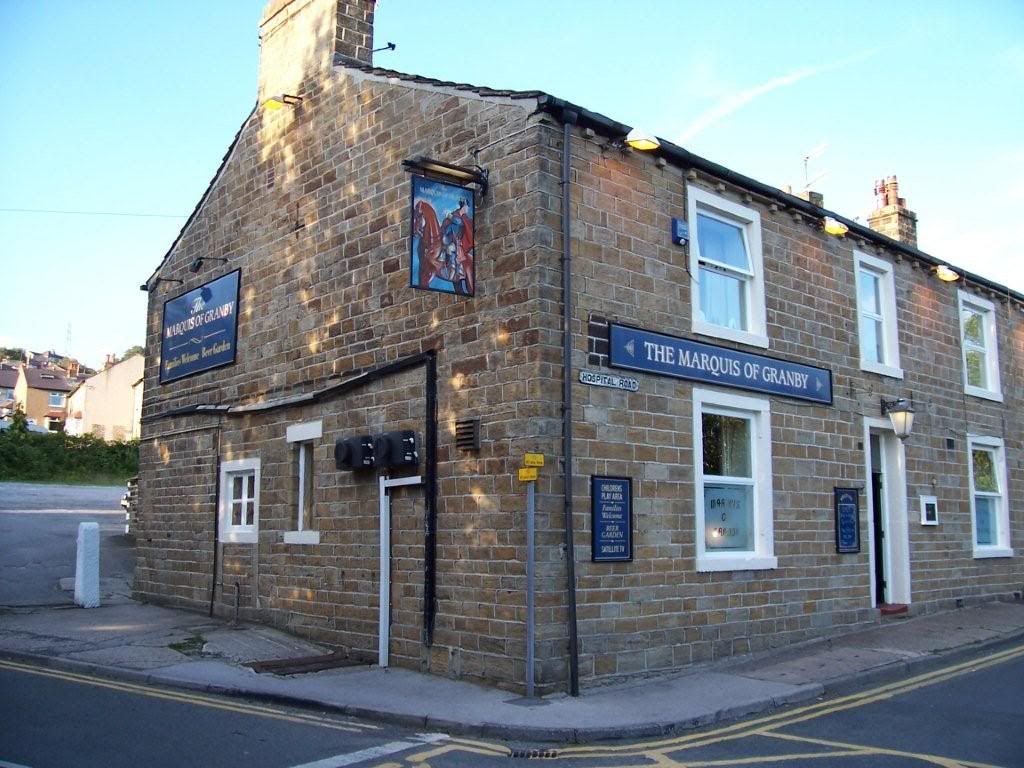 ---
Mason's Arms, 81 Low Street. From a book by John Hodgson we learn that the father of William Sharp kept the Masons Arms Inn which in the mid 1800's stood the local board of health in Low Street. Behind the Inn stood some farm buildings where his son used as a warehouse for storing and weighing wool. The Grandson of the pub owner was "Three Laps".
The 'original' Mason's Arms Stood at the corner of Hanover Street and Low Street back in the 1820s. Around 1850 it was pulled down and the Wellington hotel was built.
The Mason's Arms moved to its current location on Longcroft in1853 built by William Fowlds father of Mr. Hiram Fowlds on land bought from the Greenwoods. Jeremiah Fowlds born in 1776, remained in the inn till his death in 1820. The landlady was then his widow Sally, could this be the same lady named Sarah in 1861 and 1871 or maybe a daughter or other family relative. Landlady 1861 & 1871 Sarah Fowlds (Foulds) widow. 1881 William Broadley. Acquired by J Knowles Brewer Denholme Gate 9 July 1879 Conveyed to T Taylor Brewer Keighley 12 Nov 1885
---
New Inn, Turkey Street. directly opposite the back door of the Angel Inn. Before closing in 1869 it had been called the Blue Bell.
The New Inn was located in Turkey Street directly opposite the back door of the Angel Inn.
Information from Eddie Kelly: The map is a fragment from a local board of health plan in respect of a scheme to improve the junction of what is now West Lane/High Street. This would be early to mid 1860's. The New Inn beerhouse is clearly marked although the Sun Beerhouse is mistakenly named as the Ship. The pub was known as The New Inn when it was conveyed to Timothy Taylor 15 Feb 1864. The conveyance noting the former name being The Bluebell.
---
New Inn Cross Roads. Acquired by T Taylor 4 Nov 1859


---
Oddfellows Arms, Cavendish Street.
| | | |
| --- | --- | --- |
| | | Demolished 1900, the Cavendish Hotel now Stands here. |
---
Porter Vaults, Market Street. On the 1878 map looks to be a couple of doors down from the entrance to the church (left) 1871 census William Feather Publican. Became Market Arms Acquired by S Taylor Brewer Manningham 14 May 1866 1892 Tied to Bentleys Yorkshire Breweries. It later became Market Arms, Denbigh Square.

---
Prince of Wales, Parker St
Brewster sessions held in 1869 when for the first time magistrates were given jurisdiction over controlling beerhouses. They used these newly granted powers to close down many beerhouses using 'haunt of prostitutes' as a common reason. This was the reason given for closing Prince of Wales Parker St
---
Queens Head, Cavendish Street. Demolished 1900 as soon as the Cavendish Hotel was complete

---
Queens Building / The Midland Queens Hotel / Station Hotel. Bradford Road at the corner of Dalton Lane
Was occupied by Richard Craven electrical. The Carr Head estate, Cowling, was auctioned here. Once the home of the Wainman family. News item 1st June 2006 To be demolished for being uninteresting. landlords 1871 George Wat??n 1881 Fletcher Harrison from Ossett , see 1881 household
The Midland Queen's Hotel was built in 1901 to the design of Milnes and France, and in the same style as Trubshaw's earlier Station building. there was an earlier, smaller hotel on this site. Three and a half Storey with basement. Stone built with slate roof. Free Acquired by Melbourne Brewery Leeds 1 Oct 1945. Sadly now demolished and replaced with some concrete structure that now houses the collage.

Here is a video clip taken by Chris Kelly of KeighleyWeb
---
Queen Street Arms, (New Street) Queen Street,



Landlord Thomas Blakely. Last Land Lady Edith Riley. the pub was commonly called the Grinning Rat. Propertied to have once been a coaching inn, with blacksmith's forge. The whole area was demolished in 1966. Sold Heys Ales.
Mortgage Acquired by H H Thompson Brewer Keighley 20 Sept 1876 Acquired by Tordoff Brewers Bradford29 Mar 1899 Acquired by J Hey Brewer Bradford Apr 1919
See item for Grinning Rat
The image bottom left provided by Eddie Kelly is a copy of an illuminated autograph (original in Keighley Library) given to Edith Riley Landlady of the Queen St Arms by Laurel & Hardy to commemorate their visit to the pub on 28 July 1952. Stan Laurel & Edith Riley were childhood friends when their parents were involved in travelling theatricals. Laurel & Hardy were 'topping the bill' at Bradford Alhambra during the week of the visit. Edith Riley kept an autograph book of all the famous theatrical visitors using the pub during her sixty three years residence there - most of these were appearing at the nearby Hippodrome Theatre; most of their names are now sadly completely forgotten.
---
Railway Inn, closed 1907, became Bocking Working Men's Club

---
Red Lion, John Waddington, Eastwood's row, became Midland Hotel
The Midland was built & opened as a beerhouse by Fanny Waddington who had some time previously been licensee at the Red Lion which some time after her departure was renamed the Queens Hotel. The Midland wasn't a beerhouse for long very quickly being granted a full licence,.

---
Reservoir Tavern, Calver Syke Hill.


Conveyed to J KNowles Brewer Denholme Gate 7 Jun 1873 Acquired by Woods Brewers Denholme 14 May 1885 Acquired by Boardmans United Breweries 7 Sept 1896 Leased to Strettons Brewery Derby Acquired by Bentleys Yorkshire Breweries 6 July 1921

Christopher Ingham 1864, Napoleonic War veteran. John Teal.
The inscription on Christopher Ingham's grave in Utley Cemetery reads: "In memory of the late Christopher Ingham, landlord of the Reservoir Tavern, Keighley, who died September 9th, 1866, in the 80th year of his age. He was one of the heroes of the Peninsular War. For having served in the 95th regiment of Foot, for which he received the silver medal and 9 clasps for the engagements at Toulouse, Orthes, Pyranees, Vittoria, Salamanca, Badajoz, Ciudad, Rodrigo, Fuentea, D'Oner and Busaco. He also received the medal for Waterloo."

Some local historians believe Mr Ingham's heroism may have inspired the author Bernard Cornwell's saga about Major Richard Sharpe, played by Sheffield-born Sean Bean

---
Robinhood beerhouse, Stanbury
Awaiting verification
---
Roe Buck, Utley, Thomas Smith. 1881 John Smith Brewer and Inn Keeper and farmer of 97 acres. E&T Wall Acquired by Ilkey Brewery at auction 28 May 1919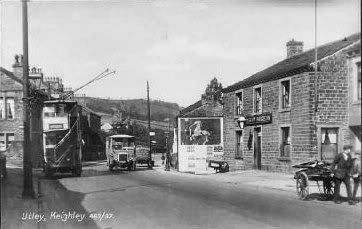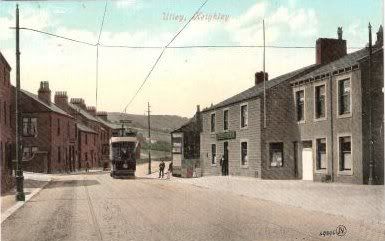 ---
Royal Hotel Damside

until 1998 when it became the Royal Oak. Harry Tap, real name Henry Hargreaves Thompson, landlord, Started a club , the Keighley Hen Pecked Club. Which involved a cradle for rocking unreasonable wife's. The cradle was often displayed in galas. 1861 Henry Thompson. It is possible that this was once called the Dusty Miller.
Owned by J Knowles Brewer Denholme Gate March 1868 Acquired by T Taylor Brewer Keighley 12 Nov 1885


---
Rule Brittania Information from Eddie Kelly: Was also a beerhouse and like many others wasn't allowed to continue after the licensing sessions of 1869. The reason for discontinuance appears today to be either pedantic or bloody minded. The application for a licence had been received with less than two weeks notice therefore none was granted. Thomas Greenwood was beerhouse keeper at closure and the property was owned by Midgley Oddy. The location was reported at closure as Oakworth but I have a note for 1867 suggesting the beer house was actually at Upper Ponden
---
Scar Top Brewery.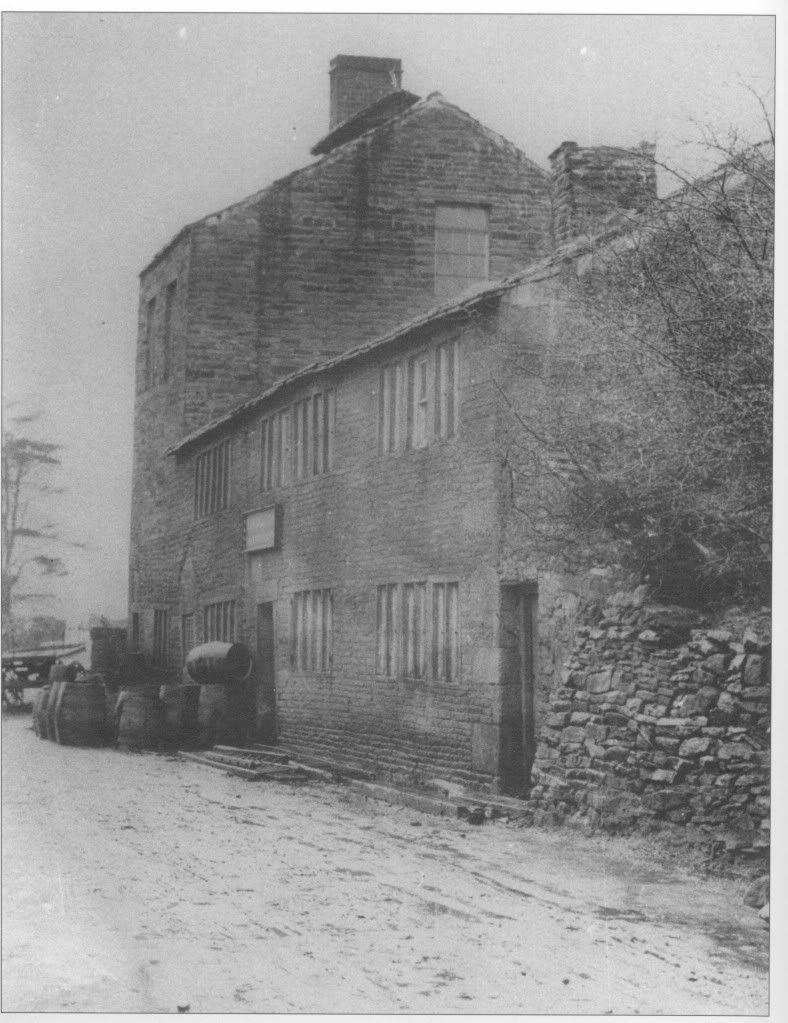 William & Robert Heaton was living at Scar Top Farm at the time of the construction of Ponden reservoir & Watersheddles. He saw a cash making opportunity, the workers were a long way from any village. So he built a brewery onto the side of the farm, which consisted of a large underground Store cellar, barrel wash house, wagon shed, counting house, brew house, square rooms Store, vatting rooms, refrigerator and settling back rooms, hop chamber and malt room. The business must. have grown beyond supplying the works, which by 1873 there were some 300 men working on the reservoirs. By 1877 they had 3 horses, an ale wagon, ale cart, sprung cart and a dog cart; one set of harness was silver mounted. The reservoirs were completed in 1877. May 1878 there was an advert for the sale of, Brewery, farm and three cottages. It was advertised later 1St. June 1878 in the Keighley News, to take place at the Crown Hotel, it must not have sold as it is advertised again September 1878, but this time it also includes household furniture and livestock. It must have failed to sell, and things must have become serious, November 1878 another advertisement, this time being sold by Order of Mortgagees, Under Power of Sale.
---
Shake Hands Beer House. Information from Eddie Kelly: Being located at 'Chip Hill' which was probably below Bogthorn. Possibly located above the top of Ingrow Lane. The beerhouse keeper when the pub was closed by magistrates in 1869 was John Clayton. The reason for closure was unusual in that the property was considered too small to be used for a pub effectively its rateable value was less than £20 per year - the minimum required to enable a licence to be granted.
---
Ship Inn West Lane, part of the Bentlys Yorkshire Beers (BYB) brewery chain. closed on 5th April 1969. Good Friday, last licensee's was Jack and Maureen Beck and the last barman was Mr. Robert Wood. Mortgaged to White Horse Brewery Keighley 30 Oct 1887 Acquired by Scott Brewer Skipton 10 Feb 1898 Sold to Bentleys Yorkshire Breweries 1 Oct 1912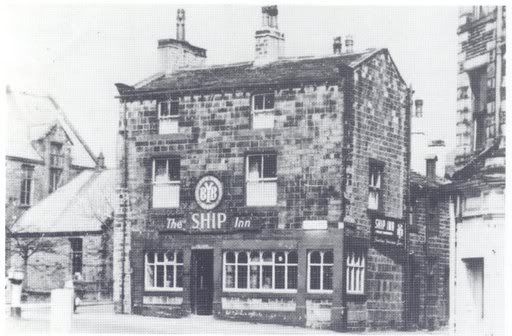 ---
Shoulder of Mutton, Station Road, Thwaites 1881 William Pickles was landlord living at 22 Thwaites. Acquired by J Wood Brewer Denholme 29 Sept 1891 Acquired by Boardmans United Breweries 7 Sept 1896 Leased to Strettons Brewery Derby Acquired by Bentleys Yorkshire Breweries 6 July 1921
---
Silent Inn Hob Lane, Stanbury. One Story tells that this inn took its name after Bonnie Prince Charlie Stayed at the inn for several weeks during the 1745 Jacobean uprising. The villagers were told to 'keep silent' about their guest's presence. Tradition holds that a kindly old landlady provided food for the wild cats that foraged on the moors. She would announce feeding time by ringing a bell from a doorway of the inn that has since been blocked up, and this is where a ghostly tinkling is now heard.
---
Snooty Fox, Oakworth

---
Speakeasy, Cavendish Street
| | | | |
| --- | --- | --- | --- |
| | | | Not a public house but a night club. |
---
Star Hotel North Street.


T Ramsden Brewer Halifax freehold 26 Jul 1899 built new pub, Ramsden purchased leasehold on old pub 13 May 1870 Acquired by J Tetley Brewer Halifax 22 Dec 1965
---
Station Hotel See Queens Building
---
Sun Inn,
information from Eddie Kelly: The Sun kept by Hannah Dunbar was listed in a commercial directory dated 1822 as being in Church St. I believe this entry was a mistake and should have actually been in respect of an old Inn named The Sun that stood on the corner of Temple St & High St. This was a distant forerunner of the pub later occupying other premises in High St known as the Exchange Vaults.



Sun Inn, (Beerhouse) 53 High Street.
Information from Eddie Kelly: Beerhouse kept by Martha Lynch. It appears to have opened between 1862 & 1865 in what was originally two cottages occupied in 1862 by James Riding & James Smith. John Lynch was beerhouse keeper there in 1866 succeeded by his wife Martha Lynch by the following year. Brewers Aaron King & Co of Cooke Lane purchased the pub toward the end of 1876 and took possession 27 Aug 1877 - they had previously supplied the beer. By 1884 the address was 53 High Street; long time tenant Fred Ambler being in charge. The pub was referred to the Quarter Sessions by the Keighley magistrates at the Brewster sessions held in Aug 1909, the pub finally closing for business 23 Dec 1909 - 100 years ago. Reason for closure - too many pubs. Kings the owners received £1312 compensation for loss of business and the then tenant George Brown received £100. Acquired by A King Brewer Keighley 27 Aug 1877
---
Timothy Taylor's original brewery was on Cook Lane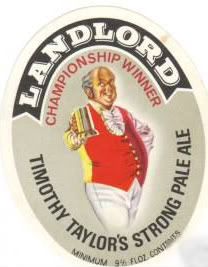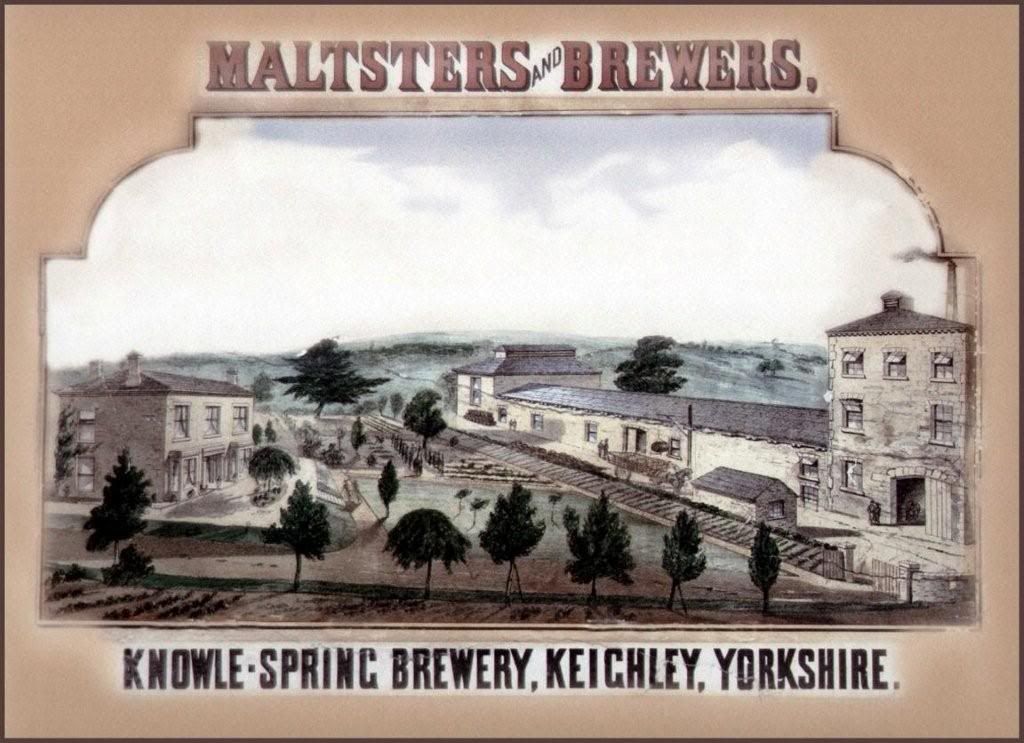 Thanks to Jan for sharing the photo of the brewery (2nd photo from left)
---
Three Horse Shoes, Eastwood row. 1829 landlord John Parker; when rebuilt became Queens Hotel

---
Turkey Inn Goose Eye


The Turkey pub at Goose Eye was originally cottages used by workers at the nearby Turkey mill; one of which was occupied by John Hagar becoming a grocers shop by 1830. John Hagar was also employed at the mill as a paper worker having previously worked in a similar capacity at Morton. Local rate books suggests John Hagar had obtained an excise certificate to sell beer for consumption on the premises at his grocers shop by 1834, taking advantage of recent legislation that permitted the establishment of beer houses without a justices licence. It appears the beer house continued as such until a full innkeepers licence was granted in 1842. John Hagar had moved to the Hare & Hounds Inn Keighley by 1839 remaining there until his death in 1855; his wife Martha continuing the tenancy until 1873. The pub is named after the mill which in turn was named after Turkey Mills at Northampton (the largest paper producing facility in the country at the time). The Town family also had a Warehouse in Leeds. When they built housing in the West Lane area of Keighley they named the subsequent streets after their mills Turkey Street & Leeds Street;, fragments of both still exist either side of the Brown Cow pub.
---
Victoria Hotel, Cavendish Street, In its hey day it would have been a magnificent place, catering mainly for Travellers and had new novel electric lights, a grand restaurant and buffet. They also laid on public banquets and balls. Acquired by J Whitham Brewer Burton on Trent 15 Oct 1889 Leased to Wm Whitaker Brewer Bradford Acquired by J Spink Brewer Bradford17 Mar 1920 Information from Eddie Kelly: It was built on the site of a former Horse Infirmary it was intended to call it the Nags Head in commemoration of the sites former use. However difficulties were encountered securing a licence which took several years to obtain. When it was granted the owners changed the name to celebrate their Victory in securing the licence. The name has nothing to do with the Queen of that name who was reigning at the time!

---
Vine Tavern, Hope Place, off South Street. Acquired by T Taylor Brewer Keighley 9 Jan 1873. Closed April 2012

---

Volunteers, (Vaults), Lawkholme Lane. Bought by Timothy Taylor in December 1859

---
Wall E & T Ltd, Hanover Street.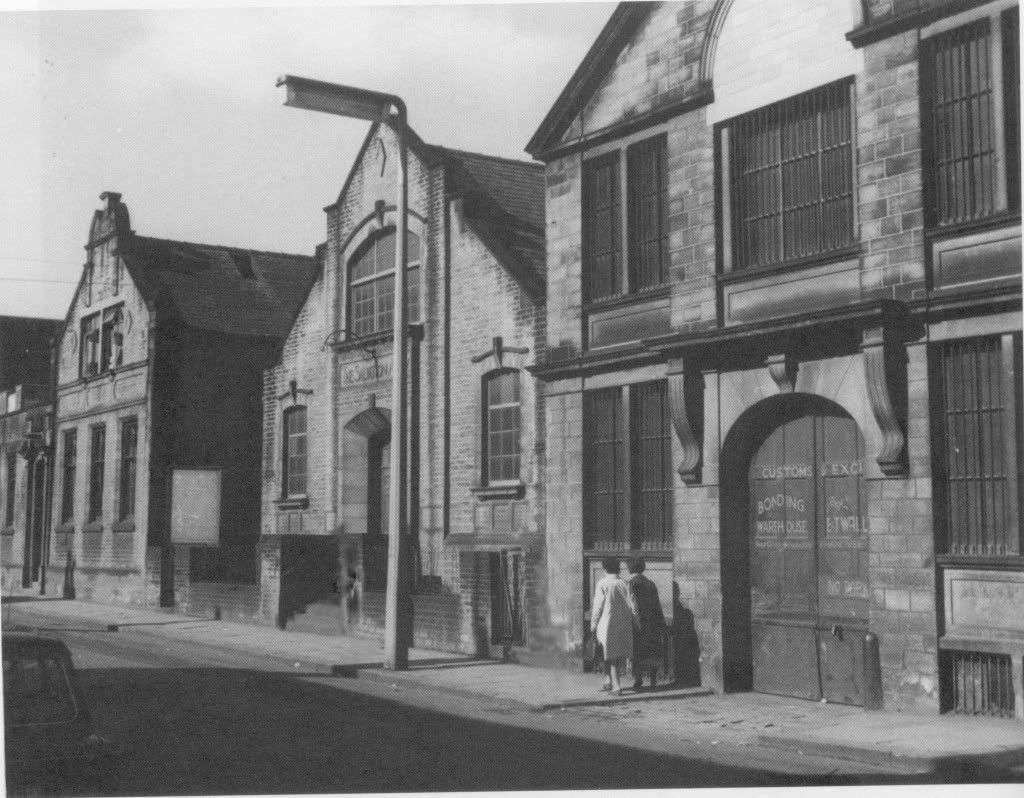 ---

Wellington Hotel, Hanover Street, Landlord Ed. Cooper, Acquired by T Wall Brewer & Wine Dealer Keighley 4 Nov 1856 In existence in 1826 Closed in 1989. Built where the first Masons Arms once stood 81 Low Street, on the corner of Hanover Street and Low Street.

---

White Horse , New Side Road.
BYB house. Opened around 1884, closed 31 March 1969. Mark and Mary Gunning were the last landlord and landlady here, they relocated down the road to the Great Northern Inn at Ingrow. Thanks to Allan Smith for the information.

Acquired by H Thompson Brewer Keighley 4 Dec 1864 Acquired by Scott Brewers Skipton 15 Mar 1897 Sold to Bentleys Yorkshire Breweries 1 Oct 1912
---

White Lion, Haworth, Coaching Inn oldwhitelionhotel.com. Conveyed To S Ogden Brewer Haworth 10 Nov 1880 Leased to R Whitaker Brewer Halifax 24 Sept 1910 Leased to Bentley Yorkshire Breweries 1916


---

White Swan, Low bridge, 1829 Landlord George Corlass,
---

Willow Tree. Morton Banks
---

Woodhouse, later renamed The Rovers Return, Woodhouse Road.
Information from Eddie Kelly: The Grinning Rat pub being compulsorily purchased; Hey's receiving £6650 compensation from Keighley Corporation, replacing the pub with a purpose built one along Woodhouse Road Keighley. It was the brewery's intention to name the new pub the Grinning Rat - indeed a sign to that effect was erected but public pressure was mounted against the name and it subsequently opened as the unimaginative 'Woodhouse' the last pub to be opened by Hey's brewery prior to their merger with Webster's of Halifax. The pub was in recent years ridiculously renamed 'The Rovers Return' before falling into disuse and subsequent demolition during the spring 1995.
---

Woodpecker, Riddlesden. Now Willow Bank House.
Information from Eddie Kelly: Fully licensed pub adjacent to the Leeds & Liverpool canal serving travellers using this route.
A newspaper advertisement dated 1849 probably in the Leeds Mercury names Michael Gill as Landlord promoting a pigeon shooting match at the pub on Whit Monday (28 May 1849). The prize for the winner was........ One Pig!! Michael Gibson; is listed as Landlord in 1830 and was still there in 1842 when his alternative trade of basket maker is listed. One other note I have on this pub is dated 1853 where its location is described as being 'adjacent to Stockbridge Colliery'.
The full licence being transferred to Mrs. Garrett's beerhouse at Stockbridge 'The Bridge'. The pub was owned for many years by the Saxton family. Joseph Saxton was still running the pub in 1864 on behalf of owner John Greenwood. A directory entry for 1866 suggests John Saxton was still running the pub but the Bridge is also listed as now being fully licenced. It is quite possible that the licence was actually transferred to the Bridge during 1866. Joseph Saxton formerly of The Woodpecker was granted 'leave to sell' early 1867 in respect of the Busfeild Arms East Morton, succeeding John Gledhill. A further note indicates that the Woodpecker had now closed.

---
Woolpack, (Brick houses) (Acre Square) King Street.
Banks Booth, listed in 1829. Landlord Thomas Dawson. Mortgaged to R Whittaker Brewer Halifax Acquired 1 Apr 1921

---
Probably built in the 1860s or 1870s as an end-of terrace pub. Boardmans United Breweries Acquired at auction 25 Aug 1897 Leased to Strettons Brewery Derby Acquired by Bentleys Yorkshire Breweries 6 July 1921

Harry Kidd's tenure: He took over the pub from Edward Percival in September 1927 leaving January 1931 & succeeded by George Henry Swire. Harry Kidd had previously lived at 20 Exley Head Keighley.
The pub was conveyed to Bentleys Brewery along with several others on 6th July 1921. It had previously been owned by Boardman's United Breweries who had purchased it at auction in the Devonshire Hotel Keighley 25th August 1897. Prior to Boardman's the pub had always been a free house.
---
35 Long Croft Licensed Lodging House 1881 run by Ann Wood. While it says licensed in the census, it did not mean a liquor licence more a licence to offer atrocious overnight accommodation in flea ridden beds with the minimum of sanitary conditions. It didn't get much better through the c20th century. When Roberts lodging house closed down in the 1960's, The kip by the Brown Cow. The demolition gang wouldn't go inside because of the infestation. Eventually the Fire Brigade set it on fire under their control. Information supplied by Eddie Kelly.
---
BEERHOUSES
John Foster Beerhouse Keeper Market Street 1861
Jacob Stead Beerhouse Keeper 37 & 41 Wellington Street 1881
---
Maltsters
1822 Joseph Atkinson, Hope Street
1829 Joseph Atkinson, Hope Street
1829 William Barstow, Eastwood
---
Coffee Houses. (Introduced by the Methodist's)
Acorn Coffee House, Low Street (near to the Black Horse)
Alexandra Coffee House open 1884 in East Parade

---
COACHES:
Crown Union (1828). — Keighley and Leeds. Ran from the Crown Inn, Keighley, every Tuesday, by Bingley, Shipley, Windhill, Idle, Calverley, to the Bull and Mouth, Leeds ; returned at 5 p.m. Performed by John Ellison & Co., Keighley.
Alexander (1820-43). — Leeds, Bradford, Halifax, and Skipton. From the Rose and Crown, Leeds, at 5-30 p.m. One coach to Bradford; two coaches from Bradford to Halifax and Bradford to Skipton : 1822-4, 5 p.m.; 1826, 4 p.m.; 1829, 3-45 p.m.; 1832, 4-45 p.m.; 1833, 3-45 p.m. In this year the Halifax branch coach gave up running, but the other continued through Bingley and Keighley. In 1837 it was removed from the Rose and Crown, and ran from the Golden Lion and White Horse alternately: 1840, 4 p.m.; 1843, 4-30 p.m.
Anticipation (1817).— Leeds and Skipton. From the Black Horse, Skipton, daily, at 5 a.m., through Keighley, Bingley, and Bradford, to White Swan and Rose and Crown, Leeds ; returned same route, 3-30 p.m. Performed by Asquith, Duckitt, Greenwood, Wilkin, and Long. This coach was succeeded in the following year by the Britannia, running over the same ground and worked by the same men.
Britannia (1818-21). — Leeds and Skipton. Left Skipton at 5 a.m., daily; returned from the Rose and Crown, Leeds, at 5 p.m., through Bradford, Bingley, and Keighley. Performed by John Long & Co.
Coach (1792). — Leeds to Skipton. Began November, 1792, from the Golden Lion and Rose and Crown, Leeds, Tuesdays, Thursdays, and Saturdays, at 2 p.m., through Bingley and Keighley.
Diligence (1789-91).— Leeds and Kendal. Began to run May, 1789, through Bradford, Bingley, Keighley, Cross Hills, Settle, Kirby- Lonsdale, on Mondays, Thursdays, and Saturdays, at 4 a.m., from the Old King's Arms, Leeds, to the White Hart and Coffee House, Kendal. Fare : inside, 25s. Performed by Hick, Leeds ; Parkin, Devonshire Arms, Keighley ; Newell, New Inn, Skipton ; Robinson, Royal Oak, Kirby-Lonsdale.
Invincible (1824-42). — Leeds and Preston. Commenced running April 26th, 1824, from the Hotel, Leeds, at 7 a.m., daily, through Bradford, Bingley, Keighley, Cross Hills, Colne, Burnley, and Blackburn ; arrived at the Old Red Lion, Preston, at 3-30 p.m., in time for the Blackpool coach. Performed by Mathew Outhwaite & Co.
Merry Wakefield, an early coach running on alternate days from this house and the Golden Lion to Bingley, Keighley, and Skipton