Photo showing the Friends (Quaker) grave yard, Briggs Sepulcher, and the houses called Gables, the plans were drawn by architect John Haggas.
The houses on North Dean Road, which at the time was named Lynum Street, and West Lane, which is named Laycock Road on the 1800's map, were built by the Briggs for their workers, but the houses called the Gables, while being built by the Briggs, can not have been intended for the workers, as the mill at that time had been taken over by Joseph King.

The Cloughs built what is known as the "Groves" Oak, Elm and Ash, Halifax Road.
Social Housing, or more commonly known as Council Houses, the first in the area were built at Broom Hill. Keighley's first Social Housing
The help us find out the families in the town from an early date, we have used the 1672 Hearth Tax. We list here those who had more than one hearth. There were 420 hearths recorded for Keighley.
Form the one's with the most hearths we see names that have traveled down through history, and names that faded from the limelight. We wonder where the building with 12 hearths was, and could this be the lost mansion house that supposedly was situated in Parkwood. West Riddlesden Hall extended 1687 and East Riddlesden Hall extended 1692.
Mr Tho Browne 12 m Margaret Mitchell 1675 Thomas died 1678
Ellin Phillips 7 Nee Clough Jerime died 1667 Helen died 1698
Thomas Denby 7 Parson
John Ramsbotham 6 Yeoman John m May Sugden 1644
John Learoyd 6
Geo Denbigh 5 Registrar for the parish
Anne Lawe 5
Widd Beanland 5
Henry Clapham 4 Poss Thwaites
Willm Clough 4
Widd Drake 4
John Denby 4
Thomas Hird 4
Geo Hudson 4
Tho Knowles 4
Henry Pickles 4
Willm Mawde 4
Willm Clapham 3
John Drake 3
Robert Hall 3 Yeoman Newsholme
Widdow Hartley 3
Elizabeth Hudson 3
John Keighley 3 Draper
Willm Potterton 3
Thomas Pickles 3
Richard Rawlin 3
William Smith 3
Christopher Smith 3
John Smith 3 Yeoman died 1722
John Steele 3
John Shaw 3
Richard Shackleton 3
Benjamine Tatham 3 died 1706
Willm Midgley 3
John Wright 3 Yeoman died 1727
Robert Wright sen 3
Nicholas Wright 3
William Binns 2
Mr Richard Browne 2
Avaray Barraclough 2 A Quaker
Mr William Brooke 2
John Brooksbancke 2
Thomas Briggs 2
Thomas Briggs 2
John Bothomley 2
Joseph Beaneland 2
Widd Beeston 2

Thomas Brooke 2
Geo Clapham 2 Exleyhead
Robert Clough 2
John Clough 2
Chrofer Clarke 2
Mrs Mary Currey 2
Geo Dixon 2
Richard Denbigh 2
Michaell Driver sen 2
Francis Fowler 2
Willm Hird 2
Christopher Hird 2
John Hoyle 2
John Hole 2
Edmond Hutchinson 2 Deanfeild
Thomas Jenings 2
John Lupton 2
William Leach 2
John Rawdon 2
John Roper 2
John Robinson 2
John Scott 2
Roger Shackleton 2
John Shackleton 2
John Shackleton 2 Laycock
John Sugden 2
Thomas Smith 2
Widd Smith 2
James Smith 2 Whinknowl
Francis Smith 2
Robt Smith 2
Francis Sharpe 2
John Sugden 2
Henry Sharpe 2
Francis Sowden 2
Anne Sowden 2
Thomas Tayler 2
Robert Tayler 2
John Townesman 2
Jonas Townson 2
Matthew Wilman 2
Tho Wilkinson 2
John Widdop 2
John Wheelewright 2
Richard Wheelewright 2 Yeoman Hob Cote died 1727
Anthony Wright 2
Richard Wooler 2
HAWORTH
Timothy Gaukeroger 6
Mr John Ramsden 5
Jonas Pickles 4
Christopr Holmes 3
John Feather 3
Abraham Uttley 3
Henry Mitchill 3
Joseph Smith 3
Henry Baron 2
John Driver 2
Robert Godbert 2
Ambros Hay 2
Joshua Heaton 2
Robert Heaton 2
John Holmes 2
Christopr Holmes 2
Willm Ickeringall 2
Paull Kay 2
Nathanll Feather 2
Joseph Morrill 2
Thomas Mitchill 2
Edward Pickles 2
Joseph Pickles 2
Thomas Pickles 2
Thomas Pickles 2
Michaell Pickles 3 His wid marr George Taylor
Michaell Pearson 2
Michaell Rushworth 2
Thomas Rushworth 2
Willm Rushforth 2
John Redman 2
Michaell Shackleton 2
Michaell Shackleton 2
Abraham Sutcliff 2
George Taylor sen 2
Widdow Tillotson 2
Jonas Wheelewright 2
Adam Wright 2
John Widdup 2
Thomas Whitacres 2


BINGLEY (over 2)
Mr Currer & Warrenhouse & milne 18
Mr Ben Farrand 8
Mr Binns 8 Rushworth Hall
Sam Sunderland Esq 8
Tho Murgatroide 6
Mr Farrand 6
Mr Fairbancke 6
Tho Booth 5
Willm Dobson 5
Tho Dobson 5
Abra Parker 5
John Scott 5
Widd Thornton 5
Tho Blakey 4
Tho Inglethorpe 4
Mr Benja Farrand 4
Mr Stephen Farrand 4
Rich Francke 4
Widd Heaton 4
Martin Lister 4
Thos Lister 4
Jonas Appleyeard 4
Willm Marvill 4
George Oldroyde 4
John Tayler 4
Roger Shackleton 4
Mr Mich Youngbotham 4
John Wilkinson 4
Widd Whitley 4
Mr Bentley 3
John Clayton 3
Nichol: Cowling 3
Joseph Dawson 3
Robte Denby 3
Rob Hardcastle 3
Widd Holmes 3
Fran: Howgill 3
Tho Murgatroide 3
John Mitchell 3
Widd Whitley 3
John Rawson 3
Nicho Stead 3
William Scott 3
Robert Leach 3
The Schoolhouse 3
At the beginning the mill owners would build their own houses next to or near their mill, later they would build their mansions away from the noise and smoke.
While none of the Keighley mill owners created anything like Titus Salt did in Shipley, most provided funds to the town for institutions, churches and schools
************
Acres house, Berry Lane (King Street)


Built about 1809 by Berry Smith on land bought from John and David Spencer, woolstaplers.
Timothy Hird, Spinner and manufacturer of Acre Mill lived here with his family.
Richard Edmondson, we have found records recording him there in 1913 and 1925.
Now used as a Counseling And Therapy center by Relate.
*********************
Airewood, Thwaites Brow.
Tom Clifton Butterfield. Headmaster Keighley School of Arts from 1889 to 1919
1910 William Arthur Sugden, Architect is recorded living here.
*********************
Aireville, Greenhead Lane
| | | |
| --- | --- | --- |
| | | 1896 Thomas Clapham iron founder, who was also director of the Keighley Tramways Company lived here. His son Samuel Bannister Clapham, took over the house and was here in 1901. |
*********************
Aireworth House


1834 Samuel Blakey Clapham, Esq. From Keighley Past and Present: The plain comfortable dwelling of Samuel B. Clapham, Esq., Worsted Manufacturer, is too closely embosomed by the foliage of a tuft of trees to be easily seen.
In the rate book for 1841 we find the house listed as Screw House and the ratable value being £16.10.15
1871 Thomas Brigg Laycock, Worsted Spinner & Manufacturer of John Brigg and Co
1881 Alice Laycock widow of the above Thomas.
1898, 1913 and 1919 Edmund Laycock is registered as living there.
*********************

Atley House

, Dalton Lane.
Located on Dalton Lane at the corner of Brewery Street.

1891 & 1901 William Cattle, a brewer & sprit merchant
1911 John Brooke an engineer
1913 Walter Binns


*********************
Balcony House, Oakworth Rd




James Ickringill 1909 and 1921 we find him here in the phone book of that time.
Ickringill's Brass Band (Keighley) Formed by James Ickringill, a Victorian businessman and church founder - also created local Boys & Girls Brigades. James had the Mission Hall across the road built at a cost of £14,000 around 1900.
1925 J.B Ickringill is recorded living there.
We find J.B Ingham listed here in the 1927 phone book.
Now an animal feed shop.
*********************
Balmoral House, Skipton Road


William Wright. Bill O' Th'Holus End described it being on the Esplanade, an old word to describe a flat open area that was fashionable to walk. When Mr. Leach grew more prosperous as a greengrocer he built this house, where there is a stone inscription between the first two first floor windows.
Balmoral House GO YE AND DO LIKEWISE These buildings were erected by James Leach Esq greengrocer, and Sarah, his wife, of 31 Low Street, Keighley. 1889.
Also our Sarah told me, James Leach, that she paid 480 pounds, for house and shop, 31 Low Street, Keighley, in 1840. She died August 19th, 1889. The premises were sold in October, 1889, for 1950 pounds, and was very cheap I think.
In 1892 almost 78 he married his third wife, his housekeeper aged 35.
*********************
Bankfield, Bingley


Extract from Ancient Bingley by Joseph Horsfall Turner
Bankfield, built in 1848, was formerly the residence of Wm. Murgatroyd, Esq., Mayor of Bradford in 1854. He died age 70 at Bankfield, he was born 1796 in Bradford the son of Nathaniel Murgatroyd. William's daughter Anne married Dr James Cheadle, son of a vicar, she died 1890.
It became the property of Henry Mason, Esq., Chairman of the Bradford District Bank, Limited. It was enlarged in 1871. Here he made his special collection of paintings. The property is now a hotel. We found an entry in the 1891 Journal of horticulture and practical gardening: "William Moorby, foreman at The Gardens, Bankfield Bingley, for the last twelve years". The Mason's were regular competitors in flower growing competitions.
*********************
Beeches
Home in 1891 of John Wilson Spencer, Solicitor and owner of Raygill Limestone Quarries, and family, his wife being Mary Elizabeth Craven, daughter of Joseph Henry Craven. In 1913 John Henry Craven, who was a renowned orchid grower lived here, and on an old map the glass houses needed to grow them can be seen. John died in 1935. The Spencer and Craven inter married on more than one occasion. The sister of John Wilson Spencer, Hester Wilson Spencer, married John Henry Craven who was the brother of the above Mary Elizabeth Craven. John Henry Craven was also married to a Spencer, his wife being the granddaughter of the Spencer's of Malsis Hall, Sutton whom was also the great grandfather of John Wilson Spencer.
*********************
Beech Cliffe

This house was one of the largest in Keighley with 28 rooms, not including scullery, bathroom, office etc. The Rectory had 17 rooms, and Woodville 16, so indeed a very substantial house .
The first mention we find is in the book Keighley Past and Present, which tells us that Joseph Smith is living there. "Joseph Smith: Beech Cliffe, a plain, commodious house to the north, the residence of Mr. Joseph Smith, demands a cursory notice from the extensive views which it commands over the valley of the Aire, while its situation near an angle of the north-road, and just within the southern point of a crescent-formed portion of ground which swells up in the rear to a considerable height".
Joseph Smith was a Reed maker, and was married to Elizabeth Clough, sister of Alice, Fanny and Ann (amongst others). Their father being Robert Clough.
Bought in 1875 by Henry Isaac Butterfield.
Joseph Smith lived there until his death in 1878. 1861 Alice Clough is also mentioned in the census and is also shown as head of the house, we must therefore assume that had been divided into two dwellings.
We know from the census that there was a lodge housing the coachman and his family.
The 1901 census tells us Mr. Robert Clough of Grove Mill (grandson of the above mentioned Robert) and his family were living here.
In the 1927 phone book we have found a Mrs. Charles Beaver listed at this address with the phone number 469. On the same page there is a J.W. Beaver, spinner Fleece Mills. Also for the same year in the same phone book at this address of Beechcliffe is Fred R Petty. Tel:419. So we feel that the house is divided up into apartments, or that the lodge is the residence of at least one of these people.
When Cliffe Castle was sold in 1950 Beechcliffe House was not included in the sale.
In 1953 Sir Bracewell Smith proposed buying the house for use as a Boys Grammar School.
1958 It was bought by for £5000 by Sir Bracewell Smith to be part of Cliffe Castle from Timothy Taylor and Company Limited, the intended use being for the elderly. The house it's self was empty, but the cottage and part of the garden was let.
We have managed to find the house on an old map, it was located on Skipton Road. On the opposite side of the road was Pattie Street and North View Street.
Running down the right side of Beechcliffe was Dark Lane, an old medieval road that went from Keighley to Utley.
The old road ran through Cliff Castle, starting at the side of Holly House, which became part of the Butterfield estate in the 19th century but the family didn't like a right of way going through their land and so they did a deal with the local council giving money towards the purchase of another local house (Eastwood House) to provide a museum for the town and the lane was closed. However, there is still a winding hollow way bordered by holly trees which shows the line the old road took.
Location of where Beechcliffe stood can be seen here on Google.
The main entrance would have been here, and to the left of this gateway is where Dark Lane joined Skipton Road. The House stood in what is now the grounds of Cliffe Castle, and a raise in the land shows where the house and stables stood. Part of the wall that once divided Cliffe Hall/Castle still remains.
Here on Google we can see another entrance to Beechcliffe, this would have been the trade entrance.
Looking at the map this gate looks like it was some kind of carriage entrance.
This gate shows an original entrance into Cliffe Castle, and it follows round where the boundary wall to Beechcliffe once stood,
straight up then along what was the back wall of Beechcliffe.


*********************

Blakey House, Marley
Built 1692, now two dwellings.
Map

*********************

Bocking Hall
We have found a couple of entries in the burial register for this place, one of which is for Betty Mason age 45 buried in 1837. We found John Smith living here in 1837.

*********************
Bracken Bank Farmhouse and cottage

*********************
Bracken Bank House.


We are informed in James's "History of Bradford," that " Joseph Field, Esq. of Shipley, Lord of the manor of Heaton, bap. 1601, married, 1625, Mary, eldest daughter and co-heir of William Rawson, of Bracken Bank, in the parish of Keighley; by that lady, who outlived him and died a widow, he had issue at his death in 1660. The last person of this ancient family residing in the neighborhood, was one Thomas Rawson, who, striped of his property, like many a greater man in existence, took to the profession of a school-master. He was engaged in this vocation, in the town, about 70 years ago. It is worthy of note that, from a collateral branch of this family, have descended the present Countess of Bosse and the Hon. Lady Delia Duncombe.
William Blakey's address is recorded here at his death in 1759. John Clough lived here in 1871. Herbert Haggas in 1898 & 1891. This and Oakbank House was sold to the council for £15k the pair, after the Haggas family moved up to their Scottish house.
*********************
Bronte Parsonage, Haworth.
So that Haworth inhabitants could retain the services of it's own minister they raised money to build a parsonage. The parsonage was built around 1780. The barn set to the north of the parsonage was demolished in 1903.
The Bronte family arrived in Haworth 1820, during their time there no alterations were undertaken, only repairs and maintenance. In 1878 when the Rev. John Wade was in residence, a gabled wing was added. bronte.org.uk
Incumbents Haworth Parish church genuki.org.uk
*********************
Broom Hill House
Home of William Haggas in 1881 and at his death in 1889. William Whitley Vint, Worsted Spinner married the daughter of William Haggas, Anne Eliza in 1886, she died in 1891, 1901 we find William living here with his new wife Sarah Jane Haggas, the sister of Anne.
1925 William Whitley Vint.
*********************
Broom House, Spring Gardens Lane.


Situated across the road from Cliffe Castle. Broom House had ten rooms, not including Scullery, bathroom, office or shop space etc.
John Spencer died here in 1816, John Spencer and Sons consisted of father John, son's John and David, and Thomas Binns.
John Spencer, Grand father of Rebecca, wife of Benjamin Flesher Marriner who lived here 1866. The daughter of John Spencer Grace, married Banks Booth who had the Woolpack Inn. Another of John's daughters, Ann, married Thomas Binns of Croft House.
1861 it was the home of John Craven
Henry Kay 1913 and we know he was here in 1927 from the phone book entry.
Burgess Roll for 1947 Henry Black.
In the grounds were two cottages, Broom Cottage and a farm Cottage.
*********************
Broomfield House, Highfield Lane.


Broomfield house, conservatory, stable and coach house and a close of land called Lower Broomfield.
1861 John Craven Worsted Stuff Manufacture lived here with his wife and daughter and two servants.
John Brigg magistrate and worsted manufacture, lived here, he bought Lower Broomfield house from Thomas Brigg Laycock, in 1872 he added a business room, lavatory and water closet, a pantry and scullery and two detached privies. 1880 he extended further with a new kitchen, a wash house and garden house with a bathroom and two bedrooms above.
In 1882 John Brigg moved into Kildwick Hall which he rented from Sir Mathew Wilson Bart until his death in 1911.
1891 home of Frederick James Lund and in 1898 we found Edward Chaffer F.R.C.S. here
*********************
Browfield
Home to William Clapham, Chairman of the Directors of the firm of Clapham Bros., Ltd., iron founders, of Keighley. Son of Samuel Clapham
Burlington House, 29 North Street. (at the junction of Russell Street, which used to be called Chapel Lane), and North Street, where the Nat West Bank now stands) Benjamin Septimus Brigg once the Mayor of Keighley lived there 1871 and 1881.


*********************
Cabbage House, Longcroft.



Built in the late 1700's by John Greenwood
To the very right of this photo can be seen part of what we believe to be Cabbage house.
There has been much speculation about the pub the Horse and Jockey and it being Cabbage House. From various photographs, maps and documents we have been able to ascertain that it was not Cabbage House as often stated in the past. Cabbage house backed on to Longcroft and is some distance from where the Horse and Jockey was.
Cabbage house was built in the late 1700's by John Greenwood.
We have found a reference in a book which says "John Greenwood lived at Damside at the house which was to become the Royal Hotel". But there is no date, as it is possible that the Royal that we know today, is not where it was in the late 1700's. Information from Eddie Kelly is that it is known that a pub known as the Royal Oak closed 1869 was a pub of some antiquity and he thinks certainly existing in the 18th century as The Dusty Miller.
John Greenwood had Cabbage Mill built on Cabbage Croft in 1793, John lived at Cabbage House he also built Knoll (Knowle) House for his son, he later moved to West Riddlesden Hall
In 1782 John Greenwood is registered as having North Brook Mill.
1841 Rate book shows owned by John Greenwood and occupied by William Marriner, the ratable value being £18
The Bradford Observer Thursday, 11 September 1845 we find an item regarding KEIGHLEY UNION FIRE AND LIFE INSURANCE COMPANY , we find John Butterfield Esq is living at Cabbage House.
The Bradford Observer; and Halifax, Huddersfield, and Keighley Reporter. Thursday, October 02, 1845. An item regarding the railways we have William Butterfield at this address.

1848 West riding election. The poll for a knight of the shire for the west riding Thomas Corlass

Liverpool Mercury Friday, January 20, 1854 William Mitchell of Cabbage House wins a prize at the Liverpool Grand Poultry Show.
The Morning Chronicle , Wednesday, February 21, 1855 and we find a notice saying that John Roper and William Mitchell Worsted spinners go bankrupt.
William Mitchell machine wool comber Cabbage Mills is also mentioned in the ALLEGED EXTENSIVE EMBEZZLEMENT OF WOOL The Leeds Mercury Wednesday, April 13, 1864.
From gazettes-online.co.uk Bankruptcy act 1869 Hannah Whittaker of Cabbage House Long Croft, Keighley Wife of John Whittaker of Hanwell Lunatic Asylum, in the county of Middlesex, now living separate and apart from her husband under a Protection Order of the Justices of the Peace of the West Riding of the county of York, Keighley Division, and carrying on the business of a Grocer at Keighley aforesaid. ..... Dated this 21st day of December, 1880.
The entry in the 1881 census shows Cabbage House numbered 14 & 16!!! At number 14 John Roper Wool comber with wife and two children and one savant Sarah Foulds of London married age 29. Number 16 Christopher Holmes widow, engine tender living with two daughters. John Roper is still shown living here in 1891 there are now four children and one servant. 1861 the census just says "Cabbage" there are two families living here William Mitchell worsted spinner with wife, five children and one servant. John Metcalf engine tender, wife and three children. Was Cabbage house divided into two re census 1861 & 1881? 1861 census shows a group of houses called Greenwood Place, there is no mention of Cabbage Place that I can find for that year.
Taken from The Leeds Mercury, Saturday, May 23, 1885
Being sold by William Mitchell At the Devonshire hotel with other property including weaving shed at North Beck....Cabbage new mill with chimney engine and boiler house mechanics shop and stable and with compound engine and boiler of 35 horse power the site covering 1060 square yards to the east of sun street was withdrawn at £4000.00 fourteen freehold cottages situated at cabbage fold with considerable quantity of vacant land, the whole comprising about 7909 sq yards was sold to Hezekiah Mitchell, Keighley for £1040. The old mason house known as Cabbage House with cottages adjoining Long Croft was also offered for sale but there was no bid for it. A visit to Keighley library and we look at the sale posters and accompanying map, Lot 15 is the house and gardens, the stables being sold as a separate lot, covers 1197 square yards. It is occupied by Captain Roper. It is the back of the house which faces Longcroft. In the sale documentation it mentions a public road to the west of the house leading to Currier Bridge.
1907 Sarah and Squire Ramsden running a lodging House at Cabbage House.

Cabbage Croft
Long before Greenwood built his fine mill and house we found a few entries entry in the parish register for Cabbage and Cabbage Croft. For the death of John Leach of Cabbage Croft in 1762. Nathaniel Wallbank, Stuff manufacture lived at Cabbage in 1764, 65, 67 & 69.




The house long mistaken for Cabbage house built by Greenwood. It could well be the biggest house that stood on Cabbage before Greenwood built his house, or even have been one of the houses of an industrialist who's abode was Greengate, it could have been the home of Corlass, Blakey, Smith, all having mills or land in this area and all of these would have had enough wealth to build themselves an abode which in it's day would have been grand.

Stell owned land in this area, losing it to the Crown, East Greengate mill was built by John Craven in 1791 on land that once belonged to Stell.
Mr Corlass who owned a mill built a road from Greengate to The Market Place with a branch going to Sun Street. Corlass was the son in law of Craven.


At this stage we do not know what house this is or who owned or built it. We do know that the house above was located on Greengate and not on Long Croft where Cabbage house was. By 1852 the house and barn above were part of Greengate Iron foundry.
Cabbage house was on Long Croft, not Greengates where the above building stood. It was local historian Clifford Whone that came to the conclusion that this was Cabbage house, and that it was also the Horse and Jockey and we now know that this was not the case, and from research done by Eddie Kelly we are confident in our statement. But this property is right next to North Brook Mill which we know Greenwood had before Hattersley, it also backs onto Cabbage Croft, the closeness of proximity of North Brook Mill and Cabbage Mill might be where the mix up is coming from for it is interesting to note that even on some maps the naming of the mills as been mixed up, this only became clear after visiting the library and viewing the plans and map for Cabbage House and Mill from when it was put up for sale.

The building which was thought to be the Horse and Jockey and Cabbage House was clearly once a fine building (above photos), and Ian Dewhirst Keighley's best known historian acknowledges that it must have been in it's day a fine house, and he speculates that it might well have been the house of an industrialist at the very start of the industrial revolution.
The steps that run up to the upper floor do not seem to be in keeping and we feel it might be fair to assume that they were added at a later date in order to make the building into two. We have read in Hodson's book that when Greenwood started at Cabbage his mill was only a small building around the size of four small cottages, we must not dismiss the fact that he might also have got confused and that this was North Brook Mill that started of small. Hodson goes on to tell us that the first North Brook Mill being enlarged by Hattersley when he took over from Greenwood. We do not know when this house in the above photo stopped being a dwelling, but it is not impossible that it had been Greenwoods first house.


From the Keighley News 12/01/1962
Horse and Jockey Inn May once have been the home of mill owner The derelict three-storey Georgian building which is being demolished in Greengate to make way for a foundry for Jonas Wells Ltd., brass founders, Keighley, may once have been the home of a prosperous mill owner, then a public house of ill repute, an engineering works, and finally a storage place. The building has mainly been noted as the Horse and Jockey Inn, but there are apparently no photographs in existence of it when used as a public-house, nor is there documentary proof that it was, in fact ever an inn. Tradition has persisted that this building was, however, the Horse and Jockey. When it was built and by whom is also a mystery, but it may well have been the home of a mill owner. The area is predominantly occupied by factories and owners of early cotton and wool mills often lived on or near their works.
CABBAGE HOUSE?
For instance, Mr. John Greenwood erected a mill in Greengate it the beginning of last century and built himself Cabbage House. This may possibly be the house. An old map shows an open area in front of which could have been a garden. In later years the area would lose its appeal as a residential district and the house is then thought to have been converted into a public house. Mr. Clifford Whone, the Keighley historian, has been told it was a public-house about 1889, but extensive research at Keighley Public Library has failed to find any mention of the inn in old Directories listing such premises. That there was a Horse and Jockey in Greengate is certain for the "Keighley News' in 809 reported a meeting of the Brewster Sessions when application for a licence was heard.
LICENCE REFUSED
The report stated: "John Smith, of the Horse and Jockey, Greengate, next came forward. Supt. Gill said it was a house similar in character to those which licences had been refused. Sgt. Ellison said he always found prostitutes there and the applicant himself cohabited with one at the present time. He had cautioned the applicant. Smith said he had never been cautioned and did not keep disorderly characters in his house. Application refused." Mr. Whone understands that the Horse and Jockey later became a lodging-house. He can remember going up the outside steps, which were built on to the gable end, up to the top storey about 1900 in an errand for his lather. At that time the top storey was used by a small engineering firm. He is certain that the building has not been occupied since about 1920.

*********************

Calver House, west Lane
No longer standing, but the 1871 census tells us that Sam Wiggnal butter factor lived here with his wife and a servant.
*********************
Castle House.


Shown on the late 1800's map at Castle Hill, to the right of Beck's lane. Joseph Smith who was known as The Old Merchant, built Castle mill in 1783, it would not seem unreasonable that he would want a house to live in.
1822 and we find John Booth here, the next mention we find is for the death of Sarah Judson, the wife of Abraham Sugden, Abraham was in partnership with John Lund. John was also a maltster running a grocers shop on Damside, he later worked for his brother William as manager of Lund's Mill. This was also the address at the death of Sarah Ramsden in 1843 In 1851 census we find the Ickringill's here.
We found an advertisement in the Bradford Observer Oct 1787 to be sold on the 10th of November at six o'clock, for both the house and the mill, the house is described thus: Villa residence known as Castleworth House, delightfully situated standing in it's own grounds and containing on the ground floor, dinning, drawing and breakfast rooms, entrance hall and kitchen. Basement excellent keeping cellars fitted with stone tabling and shelves. First floor, landing, five capital bedrooms all well lighted. Outside, washhouse, coal place and conveniences, and a well stocked ad enclosed flower garden tastefully laid out, and planted with good bearing fruit trees.


*********************

Cairn Croft, Spring Gardens Lane.


This house was not built until 1923 it is not a design of any particular period but a mixture of many different periods and styles. At this stage we do not know who the architect or the builder was. One end of the house is very plain and the other very ornate with many quality features, there is a main hall and a back hall divided by a door. The dining room has a door leading to each hall.
When Mr. Leach bought the house it was set in one and three quarter acres of garden which included a large formal garden, an orchard, a formerly laid out kitchen garden with a potting shed and greenhouse. They sold approximately half the garden for development in 2000 which is now known as Cairn Close, unfortunately as a condition of the planning permission the original entrance had to be moved from Spring Gardens Lane to Cairn Close. Thanks go to Mr. Leach for providing the above information.
Mr. Leach was told that he and his wife where the third owners, unless the Grace's were the first owners then it would seem that the Leaches are the forth or even fifth owners.
After further research we came across some deaths entries in the registers, going by the dates of death and the address at the time we concluded that Mr. and Mrs. Abraham Grace were living here between the years 1932 and 1950. Yet the old telephone books make us wonder, Mrs E Grace is listed in 1939, and we have found entries dating from 1849 to 1967 showing entry for Miss F Whittaker, also the Burgess Roll for 1947 we found Ethel and Florence Whitaker for Cairn Croft.
From an item in an old Keighley News we have reason to believe that Bracewell Smith resided here intermittently in the 1940's. Click here to see newspaper clipping After some research we discovered that Ethel and Florence are the sisters of Edith, Mrs. Bracewell Smith.
Built 1923
1928-1939
1947-1967
1967-1969
1969-1997
1997-


Mr. & Mrs. Abraham Grace
Motor car dealer

Ethel & Florence Whitaker
Bracewell Smith


Davison
Leach
*********************
Clew House (possibly Clough House)
In 1844 the daughter of Lupton Wright married Robert Newsholme Sugden of John Sugden and son worsted spinners.
*********************
Cliff Bank, Greenhead Lane.
In 1901 Cyrus Haggas, described as jeweler and musical instrument shop keeper.
*********************
Cliffe (Hall) Castle:

Some images taken from thecravenimage.co.uk
In 1949 Cliffe Castle was sold to Keighley Corporation. The purchase price was provided by Sir Bracewell Smith
A film about Cliff Castle and the Butterfield Family, Ian Dewhirst MBE, gives an excellent talk in the TV program "Dales Diary" with Luke Cassy. YouTube
Built between 1828 and 1833 with 20 acres, built for local lawyer Christopher Netherwood, In 1828 he purchased some cottages and land at 'lower Spring Gardens or Cliffe'. before moving on to the Fewston area and becoming bankrupt, in the 1841 census we see him and the family there and his occupation if flax spinner. It was designed by George Webster of Kendal. When Christopher's daughter Frances Eliza was born in 1831 the address is simply Cliff.
Sold later to Henry Isaac Butterfield a textile mill owner, who bought the property and extended the grounds from 20 to 300 acres. Prior to living at Cliffe Hall, the Butterfields lived at Woodlands in Haworth, which they bought when Greenwoods collapsed. After a gas explosion in 1874 Henry rebuilt and made additions to the house inside and out, he also changed the name to Cliffe Castle. arch.wyjs.org.uk thisisbradford.co.uk
1861 John Butterfield is shown as the head of the household
Frederick William Louis Butterfield lived here in 1913
In 1927, sixteen acres of the estate were bought from Sir Frank Butterfield for £8000. to build Greenhead School. The Victorian mansion is now a museum. To see drawings of the house when first built and the alterations to date see arch.wyjs.org.ukpdf
Burgess Roll for 1947 headed under Cliffe Castle. Tower House, James Percival, Lodge Benjamin Anderton, William Cathy, Joseph Flanegan. Cliffe Castle Garden, James and Dennis Hope.
*********************
Cress or Crest Villa, Long Lee Lane, Thwaites Brow.
We found an entry for a resident of the house for 1925, the house is called Crest and Thomas Whitehead is resident. The 1947 Burgess rolls tells it the name is Cress and for that year we find Frank Day and at the cottage John S Anderton.
John Lister Grocer lived here, his father had been a cabinet maker and his mother Ann had been a grocer after her husbands death.
1967 the house was bought by Richard Whittaker and Sons brewers of Halifax and turned into the Druids Arms which opened July 1968.
*********************
Croft House, Catherine Street
| | | | | |
| --- | --- | --- | --- | --- |
| | | | | Binns & Williamson Worsted Spinners and Manufacturers 1822. Pigot's Directory of 1829 Mrs. Binns is listed under Gentry & Clergy. 1834 Mrs. Ann Binns. 1844 Aug 24 Leeds Mercury: For sale by auction in Keighley. Lot 1 Croft House, the residence of Mrs. Binns, with the outbuildings, yards, gardens, and other ground belonging thereto,; and the warehouse, stabling, and gighouse adjoining, in the occupation of Mrs Binns and which contain an area of about 4,880 yards. Croft house is pleasantly situated and is suitable as the residence of a genteel family. |
1851 Henry Rishworth.
1881 William Burr Solicitor along with his nephew George and a servant living here.
This was the address of William Weatherhead, Auctioneer at his death.
The house is still standing. Now Keighley Laboratories Ltd

*********************

Cononley Hall
First built 1450 and 1500, and is stated to have fallen into disrepair about 1603. The property was rebuilt by the Swire family around 1603. Colin Pickles

*********************

Currer Gate Steeton. Now nursing home. Initialed and dated "NDW 1912 EMW".

*********************

East Riddlesden Hall John Jeremy Brigg and his brother W A Brigg, bought and presented East Riddlesden Hall to the National Trust in 1934.
users.actrix.co.nz Pug.org.au Pdf
1861 Johnson Denby, family and servants lived here, he describes himself as a farmer of 650 acres. A lot of people have covered this property and to duplicate the information seems silly, we list it here as it is still a big part of Keighley.


*********************
East Royd, Oakworth.
John Sugden.
*********************
Eastwood House- Victoria Park
| | | | | |
| --- | --- | --- | --- | --- |
| | | | | John Greenwood Sugden, son of William Sugden of Eastwood House and Fleece Mill but gentleman-farmer by inclination, who in 1842 offered, as "an inducement to the operative to save the money which he otherwise might spend in the beerhouse", a prize for the best pig bred by a workman in his employment. From this, the following year, grew the first Keighley Agricultural Show. It is believed that before the house was built that this was the area that the horse races were held. |
The property was put up for sale in August 1865 by the trustees of John Greenwood Sugden and some of the description is as follows:
Spacious entrance hall, dinning room, drawing room, library and breakfast room, octagonal smoke room, kitchens, butlers & other pantries, & all other necessary offices on the ground floor. Ten excellent bedrooms, three dressing rooms, large nursery, bathroom, water closets etc. Outdoor premises, billiard room, carriage and harness house, stabling for eight horses, laundry, wash house, brew house etc. Kitchen garden with lofty walls. 20 acres surrounds the house and gardens

Thomas Craven lived here 1868 - 1888
Sir John Brigg bought the house and gave it to the people of Keighley.
*********************

Ebor House, Haworth.
Hiram Craven 1829. Hiram Craven sold to Edwin Merrall.

*********************

Elms The, Damems.
Was called Pepper Hill House but was renamed when it was extended. It might well have been built for one of the owners of Damems mill. William Haggas lived here in 1851 and it was called Pepper Hill House, but when John Wright lived here before his death in 1896 it was The Elms.

*********************

Exley (Ekisley) Hall
Re built 1662. once owned by the Paslew family and rented to Thomas Clapham who was married to a daughter of Paslew. While in the occupation of the Clapham's the house, barn and land had been divided up.
Christopher, youngest son of John Clapham, of Exley, bought land in West Morton, called Moor Ing and Moor Close, in 1621.

*********************

Fern Cliff, High Utley
John Clapham lived here in 1871. He employed 111 men and 118 boys. At the Lancaster Borough Police Court, John Clapham, Fern Cliff, Keighley, was summoned for riding a motor-cycle on the wrong side of the street. The case was dismissed on payment of costs.
*********************
Fieldhead, Home of the Marriners & John Taylor (Lord Ingrow)

*********************

Flosh House, Spring Gardens Lane


Next door to Holly House, in 1861 we find William Smith machine maker living here. 1920 voters list Thomas Sanderson listed here.
Alex Keighley the photographer gave this address to the Royal Photographic Society for the years 1889 - 1896.
Clarence Ponting from this address submitted a photo in 1899 to The Strand magazine.
*********************

Gamble Hall
We have seen this on old maps and we believe that on later maps became called Lower Bracken Bank. We have seen an aerial photo in the possession of an acquaintance and it would seem that the main dwelling could have been the hall, with an attached barn and possibly a cottage. Like allot of halls from around this time it would have been a small affair.

*********************
Gawthorpe Hall, Bingley
There is a date stone for 1596. The Walkers were living at Gawthorpe Hall in 1634, and they sold the estate and manor to Henry Currer, Esq. (grandson of Hugh Currer, of Marley) Henry Currer, sold in 1668 to Robert Benson. Timothy Maud was living at Gawthorpe Hall in 1720. 1854, George Lane Fox sold to John Horsfall.
Joseph Heaton is listed as living here in 1822. Thomas Whitley is listed as living here in White's Directory of 1837 arch.wyjs.org.uk There are tales of a haunting at the hall, a nun murdered by her lover, the nun walks near the driveway of the hall, still in denial of the death at the hands of the man she loved.

*********************

Grafton House:
1925 J.H Wharton.
Death Notice: Law.-On November 29, 1954, in hospital, Charles Donaldson Law, L.R.C.P. .&S.Ed., L.R.F.P.S., of Grafton House, Keighley, Yorks, aged 82.
*********************

Green Bank, Greenhead Lane.
At some point Sir Robert Clough, owner of Clough's Mill at Steeton lived here. 1901 William Varley washing machine manufacture.
*********************
Green Gables See Knowle Spring House
*********************
Greengate House


Long before this house was built there was at least one dwelling here or here abouts. John Blakey's address at his death in 1733 was Green Gate.
Abraham Smith lived here in the late 1700's. We know from the will dated 1801, of Aaron Hey that he lived here. Thomas Howgill Iveson, son in law of Aaron Hey lived here in 1804.
William and Ann Marriner are recorded as living here in 1808. Marriner Hy Alstone 1913. Lena Kellerman was a servant here.
1939 advertised for rental, 6 bedrooms, 2 sitting rooms, lounge hall, bathroom, kitchen, scullery & garage. Preference will be given to those wiling to take in gentlemen boarders.

We know from an item in the Keighley News 30 Jul 1949 that Richard Bird was running the house as a private hotel.
In 1756 we found a document which shows property a messuage with cottages, gardens etc. at Green Gates in Keighley which is occupied by John Sugden, owned by Thomas Wilsford of Pontefract, Doctor in Physics and John Padget is about to take over occupation.


*********************

Grove House.
A two storey house in the mill yard. The home of Illingworth and then John Clough. It is believed that John was planning to build a grand new house away from the mill for himself and his family called Woodworth, there are plans at Keighley library and they are dated before his death. Nancy, John's wife continued to live here after his death.

*********************


Seems to have taken its name from some buildings having been appropriated to the purpose of guarding the town. most certainly taken its name prior to the first Scotch rebellion, and it may be considered a suitable situation for a soldier's guard-room, standing on elevated ground a little way above the town.


We believe that it was built around 1760, double fronted with sash windows and mullions. House and attached barn, described with farm buildings, gardens, pleasure gardens and 22 acres of land.




The Brigg family lived here for many years, Mrs. Isabella Brigg lived here in 1834. The 1851 and later census give the impression that there might have been two dwellings here. John with his family and servant are shown, then as a separate household also stating Guard House is William Brigg head of house with one servant. In the 1861 census there is no evidence of it being two dwellings, but there is mentioned "Old House" which is not mentioned in the 1851 census, seems highly possible that this old house is the one that William was living in. In the 1871 we have Old Guard House and Old House mentioned. Some time around 1938 the family offered the house to Victoria Hospital but it was declined for some reason and instead sold to the Roman Catholic church when it became the presbytery.
*********************
Haincliffe House.

A relic from Haincliffe House
Stood at the top of the field opposite the recreation ground on Spring Bank, but now demolished around 1930. The architect was John Haggas of North Street. From plans in the library we can see it was a large house but not a grand one. Large kitchen with adjoining dining room and a saloon and hot room behind a drawing room, and a scullery. Four large bedrooms, one of which had a dressing room and a closet, bathroom and WC and servants bedroom with their own stairs.
Click link for photo of John Clough and Thamar. Sir John Clough, Born 1836. Knighted in 1914. Died 03 May 1922 at `Haincliffe'. His wife, Thamar, and daughter of Prince Smith also born in 1836. died at `Haincliffe' on 09 March 1909, and so never lived to share his finest hour in the presence King George V. John and Thamar moved here from Bracken Bank House.

*********************
Hainworth Wood House
It was divided from Red Holt around 1975 / 6 and was originally built around 1900. The original house built for the son of Sir John Clough At some time an extra wing was added, the wing was later turned into a residential home for the elderly, Red Holt.

*********************
Harden Grange, Harden See St Ives

*********************

Hawcliff House, Steeton
In the 1881 census we find an unmarried Sarah M. Barlow has head of the house, with a cook and a housemaid.

*********************

Hawkcliff Cottage, Steeton.


Situated on the same side of the road as Hawcliffe House, set a little way back from the toll road with a track separating it from the wood. The house now called Hawcliffe Cottage is on the other side of the toll road, it is believed that this was built as a toll house.
In the 1841 census we find Thomas Padgett a farmer and his family. In the Poll for a Knight listings of 1849 we find Thomas Shires.
1881 census we have Thomas S Shackleton Gardener, Domestic Servant and his family. From the newspaper cutting below we find that two other families also lived here at some point, Linyard and William Parnell.
Knowing that there has been more than one Hawkcliffe cottage we can not with certainty say that Thomas Pagett and Thomas Shires were at the one pictured here, but for now we shall include them until we have ascertained exactly which cottage they lived in.

Butterfield is believed to have bought the wood in 1875, we have no idea when or if indeed he bought the cottage. Sarah Barlow (above at Hawcliffe House) was the step daughter of Craven, it would be within reason to assume that they owned not only the house but the cottage and used the cottage for staff and that both properties were built around the same time.
I think it would be pretty safe to say that if Butterfield bought the land he demolished the house, (he seemed to be the Victorian equivalent to a certain builder of today who must remain un named). he moved the archway to the road edge, being ornamental it would add a little "Butterfield flash" to what would other wise be a boring wall.
The mystery of the gate solved
There as been much speculation regarding the grand gate at the corner of Hawkcliffe on Skipton Road and where it came from, some have even suggested that it came from an Abbey. From using maps that show where the entrance to the cottage was we are sure that it is almost in the correct position, although when we visited the wall in order to investigate, we noticed that a few yards farther down the road heading toward Keighley that there was another possible entrance that might well have been the way into the wood, after much pacing and measuring our stride we believe that the gate is where the entrance to the cottage would have been, and that the other opening with one remaining pillar still standing was the entrance to the wood. It would seem only right and fitting that the gate should stand here as a reminder.
We are greatly indebted to Mr. Coe of Shann Crescent for not only allowing us to see the photo but for giving permission for it to be used here

*********************

Hawkcliffe (Cottage) Toll House also known as the Old Bar-house


Built 1823 operational till 1877
1841 census shows John Murgatroyd at the Bar house and he is a Fowl Keeper.
1852 . Deaths By Lighting.— Yorkshire.—The town of Keighley experienced a severe storm of thunder and lightning, accompanied by torrents of rain. In a cottage, called the Old Barhouse, at Hawkcliffe Wood, near Keighley, was a man named Blakeborough (or possibly Blackborough) with his wife and four children, together with other children, not his own. These little ones were all playing at one side of the house, when the lightning struck an ash tree which overhangs the cottage, then pierced through the wall, struck down three of the children, and passed through a window on the opposite side of the room. One of the children was mortally injured. The child least hurt hail an exact representation of the ash tree which the lightning had struck upon its back with the branches and leaves complete, as if it had been burnt on with an iron stamp.
Taken from Kings Highway in Craven Steeton Bar. - This was set up in 1753 at "Steeton Cross," that is, at the foot of the steep hill by which the road then descended into Steeton. In 1782 when the new road under Hawkcliffe was made, the bar was removed to where the cottage now known as the "Old Bar-house" stands. The house at Steeton was ordered to be pulled down in 1788. In 1823, in view of the opening of the new road from Keighley, the New Bar-house" at Hawkcliffe was built, intercepting the traffic by "Old Bar-house Lane" as well as that by the new road.
1861 The house has had its tragedy. Mr. John Clough in his "History of Steeton" (p. 48) tells us: "In 1861 the man who lived at the toll-bar, named Holdsworth, shot his wife from the bedroom window. His wife and her brother were walking together on the footpath, about thirty yards on the Steeton side of the house, when the shot was fired which killed his wife. It was not certainly known whether he was aiming at her or her brother. He was found hiding on the moors; when he was tried he was brought in insane and imprisoned for life."
1878 The initials and date (1878) were put up by the purchaser, the late Sir John Horsfall, when the trust was abolished and the houses sold.
1881 census George Marshall a gardener is living at the Old Bar House. Also Joseph Midgley a farmer of 50 acres, they are both listed as head of house so we must assume the house as been made into two dwellings.

*********************
Hawkstones, Shann Lane, Utley
| | | |
| --- | --- | --- |
| | | Built by William Marriner Brigg on land given to his wife who was also his cousin, Sarah Marriner by her father Benjamin Flesher Marriner. 1871 Home of Brigg family, 1881 William Marriner Brigg and family lived here until 1898. 1901 Joseph Summerscales retired foundry engineer. 1925 C.A Gill. Burgess Roll for 1947 Anthony, Leonard and Mary Lillian Briggs. |
*********************
Hayfield, Glusburn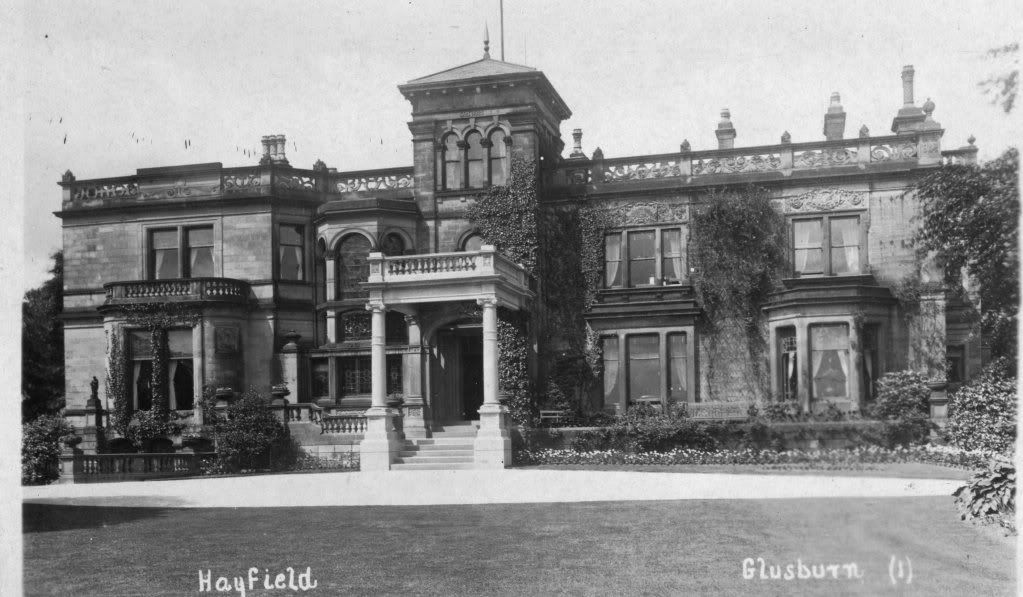 Built for James Hartley, later taken over in the 1870's by Hartley's partner John C Horsfall and extended. In 1922 Sir John Donald Bart lived here.

*********************

Herncliffe
John J Waterworth Solicitor. Samuel Stell was living here in 1925 & 1927. Burgess Roll for 1947 Sidney Stell.
Very much extended and now a nursing home.
*********************
Highfield House.
Mary Quinn Teacher Trained Certifo (Sch) lived here in 1881. Dr William Scatterty lived here. Death Notice: Scatterty.-On December 6, 1954, at Highfield House, Keighley, Yorks, William Scatterty, M.D., D.P.H., aged 95.

*********************

Hillbrook, Mayfield Road, Spring Gardens
In 1881 and 1891 Prince (Jnr) Smith lived here, his father living next door at Holly House.
Google Street view
*********************
High Mead


*********************
(Holly Croft) Holycroft House, Oakworth Road.




We found an advertisement for the auction of Holy Croft In 1844 by James Graines, we discover that the tenant is Richard Sugden, there is a dwelling house, barn, stables, cowhouse, and other out buildings and a yard and garden joining. Land: Gutter Croft, Low Long Field, and Low Holy Field. Lot 2 contained The Wood, The Brows. Lot 3 High Holy Croft and High Long Field. Lot 4 the tenant is Edward Lord, Low Castle Field with a road five yards wide through Low Stainforth Flats to Fell Lane.
Thomas Corlass in 1851
1868 Thos Blakey, Clock Case Maker
We know from the census that James Lund who would later move to Malsis Hall, Sutton liived here before his move in 1881.
1891 & 1901 Robert Clough Robinson solicitor
1925 J.W Ickeringill.
Rudolph Strecker lived here at some point.
Now flats.
*********************

Taken from Textile manufacture, and other industries in Keighley John Hodgson 1879 "There stood an old farm house at Holy Croft, occupied by a farmer and fish dealer, named Thomas Harrison, who will be remembered by elderly people by the name of 'Cockle Tom;"

*********************

Holly House, Spring Gardens Lane.
Prince Smith (Sen) lived here in 1881. 1901 we find elderly sisters Ann and Amelia Clough living here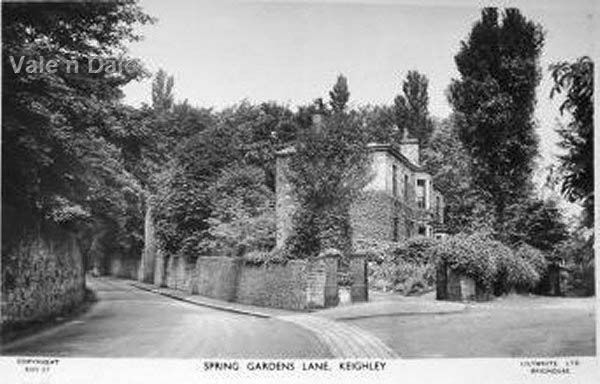 The road you can see going off to the right is the top of what was Dark Lane before Mr. Butterfied of Cliff Castle closed it off.
Google street view

*********************

Ingrow House.
1820



From a monument inscription at Keighley Parish Church we discover that Joseph Emmet paper maker and his wife lived here in 1820.


In the 1871 census we find it described Ingrow House also known as River Worth House, Paper Mill Yard. Home of the Haggas family. Now demolished
*********************

Jubilee Tower, Hollings Bank Lane
Built 1897 by Henry Isaac Butterfield to mark the 50th anniversary of the accession of Queen Victoria. The tower was intended as a dwelling and was home to Butterfield's gamekeeper for a while. It was sold by the family in the 1940's.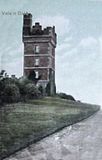 *********************
Kildwick Hall


Sir John Brigg lived here 1895 -1911, he was the son of John Brigg of Calversyke Hill. William Anderton Brigg (Keighley Mayor) & his brother Dr J.J. Brigg lived here from 1911 until the first world war. Currer fromoldbooks.org

*********************
Knoll, (Knowle) House, Halifax Road, Keighley.


Before the wealth of the manufactures arrived, this was the only superior mansion in Keighley. The house was built by John Greenwood, on land called Rawling Close, from James Lund the father of William Lund Worsted, manufacturer who would later come to live here. In 1881 William Midgley is shown living at Knowle and William Clough at Knowle Park. At some point William Clough lived here. Percy Clough lived here in 1913.

The house still stands. After Percy Clough's death there on 29 February 1956, the House became the Co-op Funeral Business on 28 August 1957.
keighley.plus.com

Photo Jan Perkins





*********************

Knowle Spring House, Keighley.


Now called Green Gables. It's been a country club, and a public house.
Robert Aked, Esq. Who was listed in Baines's Directory and Gazetteer Directory of 1822 (printer and circulating library) 109, Low street. He also started a news paper called The Advertiser. In 1853 he is listed as being a bookseller and having a stamp office, at Low Street. Alice is registered also at 104 Low Street as a straw hat maker. Robert's daughter Charlotte married Timothy Taylor the brewer. John Aked Taylor, born 1917, the grandson of Timothy Taylor and great grandson of Elizabeth Petyt.
*********************
Laurel Mount, Woodville Road
1891 Ira Ickringill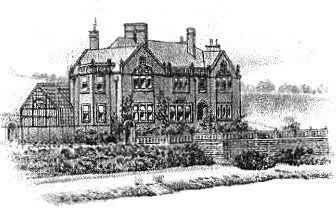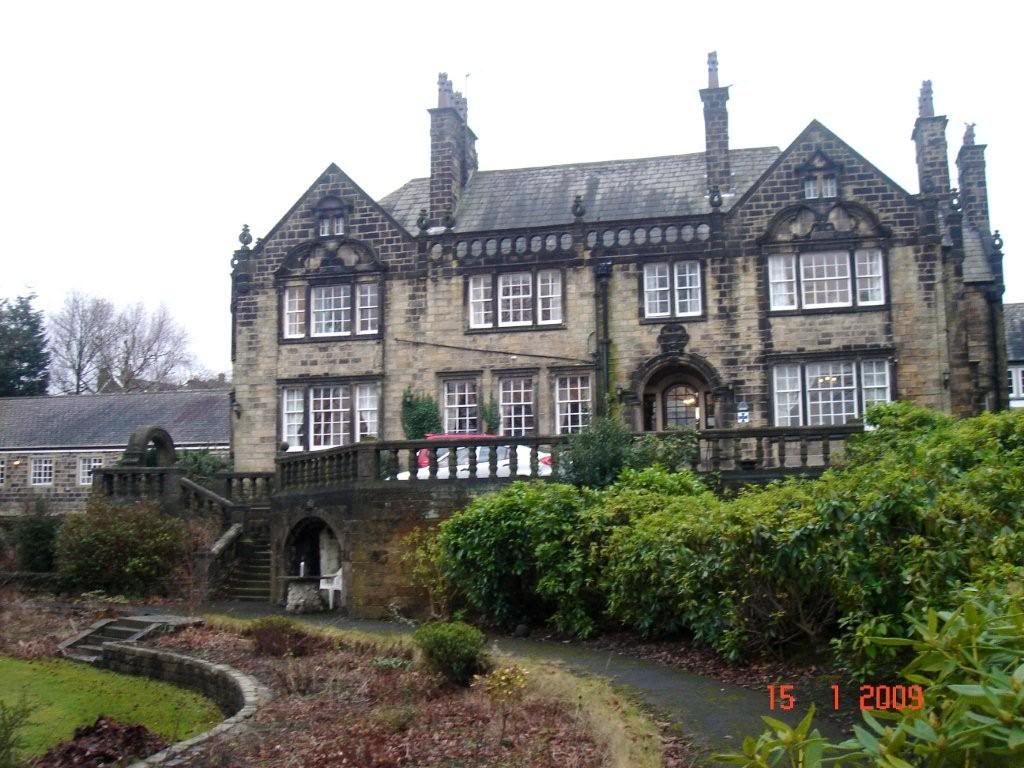 *********************

Laverock Hall Oakworth

| | | |
| --- | --- | --- |
| | | We know from the book Keighley, Past and Present Pighills lived here before 1047. Henry and Mary Pighills, rebuilt Laverock Hall, in 1640. Henry, who died, 1647, was succeeded at Laverock Hall by his third son, Nathan Pighills, who dying unmarried at an advanced age, left Laverock Hall, Carr Head, and the bulk of his property to John Bradley, the son of his niece. Mr. N. Pighills had a sister Mary, who married Mr. Edmund Laycock of Cowling, whose only surviving daughter married Mr. Thomas Bradley of Cononley. Their son, John Bradley, bom 1682, becoming the especial favourite and eventually heir of his great-uncle as above stated, married the daughter of Mr. John Green of Southwark, Merchant, and had a son John, who died without issue. He had likewise a daughter Elizabeth, who in 1740 married Mr. Richard Wainman, ancestor of William B. Wainman, Esq., the present owner of Laverock Hall and the more eligible modern mansion and estate of Carr Head. |
Betty Turner was born here in 1791. John Whitaker Binns died here 1870. John Whitaker Binns born in Colne was the the son of Kildwick born James Whitaker and Betty Binns. John Whitaker Binns married Betty Butterfield, she came from a family who farmed at Two Laws and her brother was the Landlord at the Grouse Inn.
Home of: Midgley's - Willis Hall 'Billy Liar' playwright lived at Laverock Hall

*********************

Lawkholme Farm
The property was put up for sale in August 1865 by the trustees of John Greenwood Sugden, consisting of stables, mistals, loose boxes, barns, piggeries, poultry houses, duck pond, cart shed, cottage & yard surrounded by rich pasture land.
*********************
Lawkholme House
In 1861 we find Henry Rishworth, corn miller and his family here with house servant. The next property on the census is Eastwood House, then immediately after another Lawkholme house with Paul Thornber, heardsman residing there, this later house seems to be a smaller house.
Henry Rishworth was in partnership with Isreal Clapham and they are mentioned in the newspaper item ADULTERATION OF FLOUR AT KEIGHLEY. The Bradford Observer (Bradford, England), Thursday, March 22, 1855; pg. 6. Henry's sister was married to William Roper, a descendent of the Ropers of Damems.
*****************

Layland House, Keighley
The home of John Blakey corn miler at Low Bridge in 1867. John was father to Thomas who was also a corn miller, Thomas is mentioned in the The Bradford Observer, Thursday, March 22, 1855; pg. 6 ADULTERATION OF FLOUR AT KEIGHLEY

****************
Liverpool House, Keighley
John Smith Grocer, who we know lived on the corner of Changegate and Low Street in 1871 is recorded at his death in 1888 of being of Liverpool House, we have also seen mention of it in the publication, The Chemical news and journal of physical science. We understand that there was a practice mid to late 19th century to name trading premises after some of the great trading centers such as Leeds London Liverpool etc.
*********************
Longlands, Cross Roads.
| | | |
| --- | --- | --- |
| | | Built in 1884 for Edwin Robinson Merrall. The Merrall's left Longlands at the start of the First World War. Mr Inglis bought the property around 1920, he turned the billiard room into a ballroom.. It was sold to Mr Paley just before the Second World War, he had intended to turn it into a hotel. It was later sold to the Heald Brothers, who used it as an hostel for immigrant mill girls. Sold in the 1960's to developers, who built on the land, and the house fell into disrepair. The house was then sold for use as an old peoples home. Bought in 1975 for use by YHA. Photo of the lodge haworth-village.org.uk |
**************

Lowfield House, 41 North Street.


Built by George Smith in 1852, the property had 15 acres, George was the father of Swire Smith and brother to Prince Smith, George moved here from his small house in Wagon Fold. Substantial if plain, and it stood nearly opposite the new Institute and next door to the library, where the children's library would later stand, in the centre of the town.
*********************
Low Mill House
We do not know when it was demolished, possibly around 1950, it stood somewhere around where Iceland and Aldi are now. We can see it was once a very substantial place with extensive gardens, sadly very little documentation remains. 1841 & 1851 the census shows us that John Craven was living here, we know he was living here in 1832. There were two dwellings here, in 1841 & 51 we find the Cravens and widow Parkinson and family. In 1920 Joseph Ashton and Tom Aston Stansfield, are listed as living there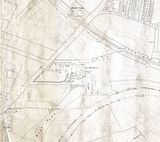 *********************
Malsis Hall
James Lund of Malsis Hall, Crosshills millenniumschools.co.uk James Lund donated Lund Park to Keighley.
John Horsfall was born here in the early 1600's William Spencer was born here in 1794, his daughter married James Lund, when James took over the property had fallen into disrepair.


*********************

Manor House, Braithwaite Village


Built in 1600's by Thomas Hird, used as a Quaker meeting house in the 18th century.
*********************
Manor House, Laycock
*********************
Manor House, Green Head Lane
Unlikely to have ever been a manor house, and is just named as such. 1861 Joseph Priestley, brother in law of Thomas Midgley stone mason. William Sugden Clapham was living there in 1881. 1901 Craven Laycock
*********************
Old Mansion House
In the parish register we have stumbled on some entries for the Old Mansion and Manor House. 1757 William son of Bernard Shuttleworth. 1759 Samuel and William son's of Rosa Boys widow. for 1787 we found an entry for William son of William Longsdale, Old Mansion House, Keighley.

Mansion House, High Street, Keighley
Robert Barlow of Blackpool was living here at the time of his death 28 Sep 1832. Robert Barlow's daughter Jane married Richard Shackleton Butterfield of Woodlands Haworth.
The Bradford Observer (Bradford, England), Thursday, September 30, 1875; pg. 6
The Mansion House was sold at auction by Miss S Barlow September 1875 and bought by the Local Board for highway improvements for £750, the remainder of the Mansion property in West Lane and High Street was also bought by them for £1220.
The trade directory of 1881 tells us that Heslin Brothers, Mantle and costume warehouse were here, it also says J Smith Standard Life Insurance, County Fire & Provident Life.
It is still possible to identify the property today from the other side of the road.
*********************
Manor House, Parkwood, Keighley
Taken from Keighley Past and Present The Park was probably paled or fenced round on the reception of this charter, its situation and extent being still ascertainable eastward of the town, in the fields called "The Parks", "Broad Parks", "Park Wood", and "Park Lane". The names of the "Park" and the "Paddock" being, so far as we know, the only existing mementoes of the one dominant influential family having once resided in the town, even the site of the house appears to have been long since forgotten.
But in a note appended to a pedigree of the Keighley's, transcribed from the Harleian manuscripts, and communicated to the Archaeological Institute, by J.A. Busfeild, Esq., there is the following very curious notice of the ancient residence of the lords of this manor: "I then inquired for the Manor House of the Keighley, belonging to this family and was shown a poor cottage, where a simple schoolmaster lived, where they informed me, stood formally the hall and the great large buildings, but now converted into meadows, orchards, and gardens." The writer of this I believe, is not known, but the date, 1667 renders it exceedingly interesting. (J.A. Busfeild, Esq., 1814- 1882).
Ann Keighley was one of two daughters of Henry Keighley, Henry produced no sons. Via Ann's marriage to William Cavendish in 1604, the Keighley lands passed to the Cavendish family after Henry's death in 1626. From here on, Keighley had no resident Lord of the manor.
Looking through some old copies of the Keighley News of 1932 I came upon a small article which said pretty much all the above, but an entry caught my eye in that locals had known this place, Killington Castle which stood in a commanding position on the edge of a plateau at the top of Parkwood, a quaint old cottage which had formally been thatched.
The Will of Thomas Keighley Rector of Kyngston in Summerset leaves to Robert a dwelling at Keighley Hall, 40 s 1395-1396.

While transcribing the Hearth Tax 1672 for Keighley we noticed that the largest was 12 hearths for Thomas Browne, 12 hearths make this a massive house, We can think of no other building that would be so large. 1672 is only five years after the note on the above manuscripts found by Busfeild.
Was Browne a land agent for the Cavendish family, or did he buy the property?
There is a possibility that he is the son of Thomas Browne who had been the parson at the parish church 1616-1636, this Thomas died 1636.
So who was Thomas Browne, at this time we are unable to cast any light on him. But we did note that he had the prefix Mr. before his name, none of the other entries having this, which also we thought interesting.
In paver's marriage licenses we found the following entry 1675 Thomas Browne, yeoman, 46, Keighley, and Margaret Mitchell, spinster, 27. Thomas Browne died 1678.
*********************
Manor House, Utley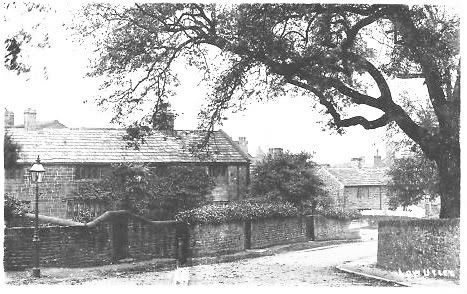 The first record we can find the property is owned by the Smiths and it came into the hands of the Clapham's via marriage, the Clapham's later acquired Exley Hall, Wet (Wheat) Head and Thwaites. It is believed that the Keighley family were the original owners.
*********************
Marley Hall


Home to the Marley's, Maude's, Currer's and Saviles. Rebuilt by John Savile in 1627. Robert Savile sold it to Samuel Sunderland, who on his death bequeathed it to Robert Parker. Mrs. Ferrand bought it in 1842. the Walkers', lived here in the 1960's.
In White's Directory of 1837 John Blagbrough is listed as farmer here, one assumes that they meant Marley Hall Farm. I believe that the 1881 census listing is for Marley Hall, and was miss spelt.
Keighley News item from 4th July 1936. Keighley Town Council debated the question of reconditioning the Manor and adjoining cottages. Cudworth mentions that in the ninth year of Edward the second reign (1316) Peter of Marthley and Ralf de Ilkleton were Lords of the Manor of Morton. The Keighley News goes on to say "Two features of the manor are of immense antiquarian importance. There is a chimney nook better than that at Bolling Hall and nearly as good as the one at Wycoller. Then there is a trough about a foot sq. Which according to an old story was used during the Great plague by horrified, fearful people for washing money in before accepting it from another person. This trough is built into an old wall.
Extract


From Ancient Bingley by Joseph Horsfall Turner
Wm. Currer occupied Marley Hall, and afterwards his son William Currer. In 1G23, John Rishworth, Esq., of Riddlesden, succeeded Paslew, and sold Marley Hall and lands for £700 to John Savile, Esq., of Halifax, whose arms yet remain over the porch and also in the hall window. In 1651, Robert Savile, of Marley Hall, mortgaged the estate to Samuel Sunderland, Esq., of Harden, for £100, and in 1665 Mr. Sunderland purchased the fee for £944 9s. Od. In 1675, he settled the estate upon his nephew Robert Parker, Esq., who then resided at Marley Hall, and in the Parker family it remained until 1843, when the manor of Harden and Marley Hall, with nearly 400 acres of land and wood were purchased for £17300, by Mrs. Sarah Ferrand and her son Wm. Busfeild, Esq., M.P., from Thomas Goulborne Parker, Esq., of Browsholme. On the Dissolution of the Priory of Drax, the King, Hy. VIII. , seized the property and manor of Harden, and granted the same to Walter Paslew.

Extracts from Keighley Past & Present:
Marley, though not a Doomsday manor, is mentioned in the survey as a place within the soke of Bingley, containing one carucate of land, but returned as waste. This village at an early period seems to have given name to a family; for in the ninth of Edward II., a "Peter de Marthley and Ralph de Ilketon" were lords of the adjoining manor of Morton. This place was for some time the residence of the Currers, and, as stated in the pedigree, "William Currer of Marley, who married Isabel, daughter of Christopher Maud, Esq., of Rolling Hail, was the son of the first Hugh Currer of Kildwick, and elder brother of Henry of Kildwick, who died 19th Aug., 1568." In the "History of Craven,"— "The manor of Bingley was sold to the Walkers, and by them to Hugh Currer of Marley, whose grandson, Henry Currer, Esq., of Gawthorpe, in the year 1668, sold it to Robert Benson, father of the first Lord Bingley." There is also a farm belonging to the Marley estate still bearing the name of 'Currer Laith;' but it appears to have entirely escaped the notice of antiquarians that Marley Hall was once the honored abode of a Saville. This house was rebuilt by John Saville in the year 1627,. Whose arms and initials are still to be seen in several places. Miss Saville was married at Keighley, 1606, to Mr. Dean, son of the Bishop of Ossory in Ireland, who was then Dean of Kilkenny. The wife of J. Saville was buried at Keighley.

1638. This family, as was common with the great and affluent of that period, maintained their hal or jester to go on errands, amuse and entertain the visitors. 'Sil o' Marley' it is said, that as he was carrying into the distant fields a number of pies for the dinner of the laboring men, his appetite stimulated by the delicious odour of his burden—the Bingley bells began to chime; and, 'as the fool thinketh, the bell tinketh,' to him they said most audibly, "Eat pies, Sil,—eat pies, Sil ;" to which invitation he as plainly and audibly responding "Yes, and I will,—-yes, and I will," sat himself down and so manfully discussed the contents, that when he arrived at his journey's end there was nothing left but the mutilated remains to place before the eyes of the hungry and disappointed ploughmen.
On another occasion, Sil having been sent with a gentleman, by whom he had been much teased during the day, to the river side, in order to show him the passage or ford, conducted him in a contrary direction, and to the deepest part of the water. The gentleman on observing this, cried out with impatience, "How, you silly rascal, how must I get over here?" to which interrogation Sil coolly and provokingly replied, "You must swim over, swim over, Sir; Mr. Saville's geese always swim over.

Matchless House.
Mr Joseph Tuley a weaver, was a well known local and national pig breeder and used to win many prizes at shows up and down the country. But one day returning home from a show his prize pig died, and he vowed to show no more. The Duke of Devonshire built Mr. a Tuley a Gothic cottage on his small holding, Mr. Tuley named it after his favorite pig. In another book it says Tuley built his cottage from the proceeds of selling off spring from the sow called Matchless and the boar named Sampson.
We have not yet been able to locate the exact whereabouts of the cottage, but looking at results from keighley Show Tuley is listed farmer of Exley Head. He must not have been able to resist showing pigs because we find him at the Yorkshire Show 1852 winning second place for best sow, and he is listed as from Matchless House, Keighley.
We have read in one farming book where is his described as a poor farmer who did without food to feed his pigs. In another book printed in 1857 we find him at Truewell Farm. Entries in newspapers giving show results in the late 50's give his address as Truewell.
A report that we came across in The Leeds Mercury Saturday, August 17, 1850. Tuley had living with him a boy aged 5 called Geoffrey Hutchingson, who was the son of John Hutchingson an excavator who was living in Bradford. One day the boy was out with three other boys who's ages ranged from 15 to 18, Lister Steel, John Leach and Aaron Duckworth age 15, farm laborer living with John Sugden at Sugdens Houses Ingrow Lane. The three older boys had borrowed a gun from William Shackleton to shoot small birds. Steel was holding the gun and Leach putting on the cap when the gun went off, discharging into the young boys chest.
Mayfield House, Spring Gardens Lane.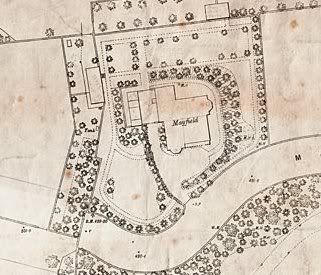 1891 and 1881 Henry Wright Solicitor lived here, he moved here from the Oaklands
*********************
Meadowfield House, Ingrow
Robert Clough retired Worsted Manufacturer, wife and daughter were living here in 1861
*********************
Myrtle Grove, Bingley.
Built in the 1767 where Springhead Farm once stood by Johnson Atkinson, husband of Elizabeth Busfield, sole heiress of William Busfield Esq. of Ryshworth Hall.
Wesley, a Methodist preacher used to stop at the Grove and stay with Busfield when he was preaching in the area. In 1838 a great deal, if not all of the contents of the house were up for auction, including carriages, horses, harness and saddles. A pack of harries and several pointers to be sold by private contract, the housewas available to let with immediate possession.
General Twiss also lived at the Grove. In 1856, Mr. Alfred Sharp moved in. The Sharp family moved out in 1881, returning in 1888. The house became Bingley Town Hall.
*********************
Myrtle Grove House, Cross Roads.
The Haggas's lived here 1881 and 1891, there were two dwellings, Myrtle House and Myrtle Grove, it can become confusing when researching this property as it was in the boundary of Bingley and they being a house of the same name in that town it is easy to get your wires crossed.
*********************
Netherwood, Ferncliffe Drive, Utley. Fred Ogden 1913. Must be a house of some substance as it has a gatehouse.
*********************
Netherwood Hall, Spring gardens Lane (Or Skipton Road). Was where Cliffe Castle now stands was actually called Cliff Hall, but in some instances recorded as Netherwood Hall. It was completed by 1833 to designs by George Webster of Kendal
When Butterfield bought the property he dismantled it and his Steward James Wright bought it and rebuilt it up New Road Side, renaming it The Whins. Netherwood was built by Christopher Netherwood a Keighley Lawyer who moved to Steeton Hall.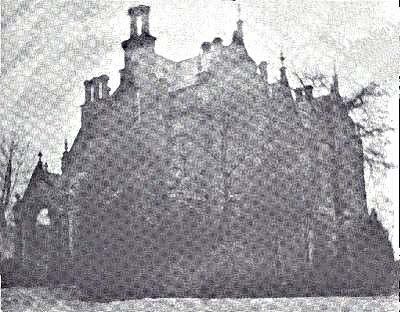 *********************
Norwood House, High Spring Gardens.
Not to be confused with the nursing home in the same area.
*********************
North Gate House, North Street.
From the 1861 census we see the location is the next house to Oakroyd where William Smith, father of Prince is living. I think it would also be safe to assume that this would be close to the location of where the towns North Gate was once situated.
Home of George Spencer, Attorney at law found in the census 1851-1861-1871 He was the son of William Spencer of Malsis Hall and brother to William of Raygill Hall, Lothersdale and uncle to Mary who married James Lund. George's daughter Elizabeth married Joseph Henry Craven of Strong Close House
*******************
Oaks The. Oakworth Road.
Now an old peoples home.
*********************
Oak Bank House.

keighley.plus.com





Built 1872 for John Haggas.
John's daughter Helen Amelia married Thomas Brigg, in 1901 she is living here with her children and her widowed mother.
In the Second World War and the house was used by evacuated families
Later became the Boys Grammar School.
This and Bracken Bank House was sold to the council for £15k the pair, after the Haggas family moved up to their Scottish house.
*********************
Oaklands, Skipton Road.
The address for the death of Gladys Lund five year old daughter of Frederick James Lund
We are aware that some of the numbered houses on North Street were also called Oaklands, and these must not be confused with the actual house of that name. The address given for the death of George Emmet Spencer in 1912 was Oaklands, prior to this his address was 145 North Street, this is one of the houses that comes under the above. Also we suspect is an entry we found for John Bottomley Lund
*********************
Oakroyd, Spring Gardens Lane.
Oakroyde stands at the bottom of Spring Gardens Lane, Opposite Oaklands. In it's prime the grounds were extensive.
1891 John Bright Berry, Registered Medical Practitioner.
1917 became home to the Sisters of the Cross and Passion Order.
*********************
Oakworth House

There is a vast amount of information about this house on the internet we did not feel we could improve on it.
victorianturkishbath.org home of Sir Isaac Holden oakworthvillage.com Vale n Dale
*********************
Oakworth Hall
gateserver.net oakworthvillage.com pricex.com
1066 - Mentioned in the Domesday Book as the Manor of Oakworth. It was given by William the Conqueror to Gilbert Tyson.
1366 - Property of the de Vaux family possible descendants of the Tyson family.
1598 - Alvery Copley, the last member of the de Vaux family, died and the 32 tenants who farmed the lands were constituted Lords of Oakworth Manor.
1662 - The famous Baptist Minister John Moore was born at Oakworth Hall. He was a friend and close colleague of the famous William Mitchell who was imprisoned for preaching in 1687. It as been suggested that the old building was burned down to smoke out a "priest hole" that had existed beneath the Hall since the Reformation.
1691 - Oakworth Hall is mentioned in the Keighley Rolls in the entry for December 12, 1691. Some travellers visited the Squire, Anthony Moore, at Oakworth Hall.
1702 - The rebuilding of the Hall was possibly completed by William Clough in its present form. The date 1702 is over the door on the south side of the Farm Cottage.
1708 - William Clough of Oakworth Hall is mentioned in the Haworth Court Rolls.
1715 - Jamas Haggas of Oakworth Hall bound as an apprentice to a Halifax weaver.
*********************
Oakworth Manor
1898 home to J.H Haggas. At some point before becoming a nursing home Mr. Harrison Jaques had lived here. A large early 20th century dwelling that is set within substantial grounds
*********************
Oakworth Road House, Oakworth Rd
*********************
Oxenhope (Old) Hall.
Rushworth 1805. Photo haworth-village.org.uk
*********************
Park House, Steeton which was built in 1630 with additions made in 1685 and 1693. We have read somewhere that Sugden built Park House, so either there was another Park House or Sugden did a rebuild. Joseph Craven bought the house from William Sugden in 1840
*********************
Parkfield House, Thwaites Brow


Ickringill Thomas 1913 a Bradford textile mill owner and despite his wealth never owned a car and used to walk to Stockbridge to catch the bus.
1925 Tom Ickeringill

Burgess Roll for 1947 John Redfern.
*********************
Park-wood house, Parkwood Street Alfred Baldwin was living here in 1913. 1936 Mr. Alfred Baldwin, of Parkwood House, Keighley, a director of James Baldwin & Company, Limited, brassfounders and engineers, Devonshire Works, Keighley. died last week, aged 67
The house now stands lonely and in a sorry state.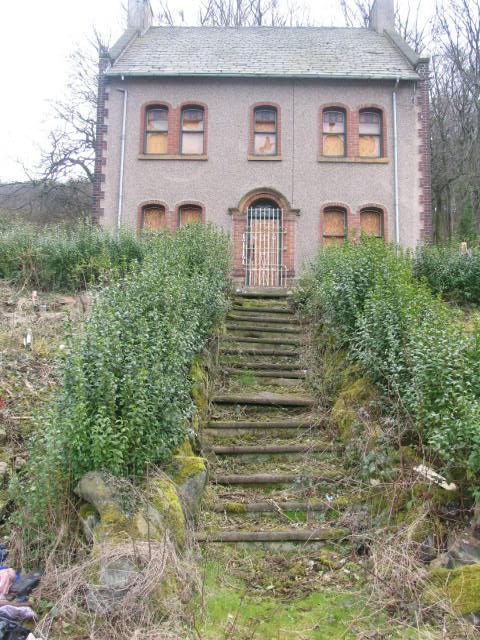 *********************
Pepper Hill House, see The Elms
*********************
Pine wood, Oakworth




In 1916 Mrs E H Illingworth lived here.
In the 1927 telephone directory we find an entry for Pinewood Residential Hotel Tel:100
We hear that there is a greetings card with a photograph of Pine Wood sent from an M. Blosfields to the tenants of Pinewoods, who were Mrs. and Mrs. Donisthorpe, dated 1979.
Demolished in 1936. All that remains is the lodge, now called Pinewoods.

*********************
Ponden Hall, Stanbury.
Owned by the Heaton's. Possibly Thrushcross Grange in Wuthering Heights. baronage.co.uk
*********************
Poplars The, Oakworth Road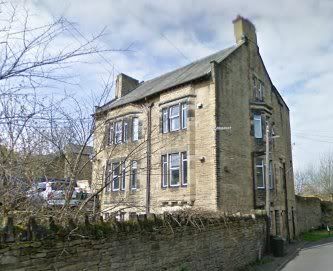 Allan Gill 1913. Now flats
*********************
Prospect House, Black Hill,
Built about 1800, In 1881 Thomas Wall Wine Merchant lived here, his widow was living here in 1901. Later Benjamin F Marriner.
From Keighley Past and Present "Prospect House, romantically perched on a part of the above-mentioned crescent-formed ground as steep as the roof that covers the fabric. Unfortunately, wood, the choicest element in nature's painting, is here but scantily bestowed. A good plantation of full-grown trees and evergreen under-wood encircling this house would add materially to its comfort and beauty, and leave a pleasing impression upon the mind of the beholder, enhanced by contrast with the naked aspect of the background; and we notice that its owner, Mr. Thomas Wall, Wine and Spirit Merchant, has begun on a small scale to supply by art what nature has denied. On the very brow of this eminence is a good house, built, it is said, for the threefold purpose of enjoying the distant views and bracing air of this upland region, and the not very peculiar whim of excluding every mill-chimney from the sight of its occupant".
*********************
Prospect House, Braithwaite
Close to the church St Mathews
*********************
Quarry House, Green Head Lane
1871 Widow of builder Thomas, Mary Midgley and her two daughters are resident here
In 1911 the home of John Laycock Consulting Gas Engineer, he had previously been the manger at the gas works.
*********************
Rectory The



This was the Rectory until 1899. To arrive there, at the bottom of Blind Lane, to the left of the Ship Inn was Rectory Row, a little further on you turned left and at the bottom of the drive was a gate house. Where the drive and Rectory Row meet became Rectory Lane, this continued till it meet Back Lane and a way called The Nick which went round the boundary of the Rectory land and came out on Highfield Lane. The house was large and sat high in extensive gardens, surrounded by fields it would have had a clear view of the church and town.
We can see from a 1912 map that the house was still standing, much of the land that once part of the grounds now built on. It would have stood somewhere near where the Gas Club on Luton Street was.

In 1871 William Bustfield clergyman was there with his wife and family with a gardener and housemaid.






Map showing extent of grounds the earlier Rectory stood in.


The Rectory in this photo is still standing but now a private house on Woodville Road, sitting on the bend just before the junction with View Road.
Burgess Roll for 1947 Eric Tracy.
We know that in 1950 the Rev E.C Hame was resident here.

*********************

Clough J.P 1913. Built around 1889 the architects being Mawson and Hudson, the gate house built after 1887, served both Red Holt and Haincliffe House. Red Holt was used as a residential home for the elderly until 2006.
Information from Allan Smith:
The following is a mixture of what my mother told me, and my own recollections supplemented with trace of more recent research. 'Red Holt' was built in 1889 in the Arts and Crafts style as a wedding present from Sir John Clough (not yet knighted), for his son, Henry Smith Clough, and Elizabeth Ambler. They were married by the Rev. John J. Maguinness at St. Lukes, Manningham, on Wednesday 26 June 1889. Elizabeth was the daughter of Jeremiah Ambler of Selbourne Villas, Manningham, manufacturer, and Sarah Jane Walker, who were married at Bradford Parish Church (now the Cathedral) on Wednesday 20 December 1865. The architects for 'Red Holt' were Mawson & Hudson of Exchange Buildings, Bradford, and the house was extended in 1902 to include a billiard room and various other facilities.
The architect for the Lodge at the bottom of the drive, was David Wilkinson Weatherhead, and herein lies some family interest. He was the brother of Sir John Clough's mother, Nancy, mentioned previously regarding Keighley pubs and inn as being the daughter of William Weatherhead, landlord of the Commercial Inn on Church Green. For more information about the Clough family please see the family page.
The Scatterty family lived here during the 1940's to 1950's. Lieutenant Colonel William Scatterty, his wife Agnes Scatterty, and their daughter Amy Elizabeth.
*********************
Riddlesden Hall - East
Taken from BBC Domesday Reload: East Riddlesden Hall was first built in Saxon times and then it was rebuilt in 1638. It was first built by Archl a Saxon's son. Maude family owned East Riddlesden Hall until 1402 when Elizabeth Maude married Robert Paslew We also know that Paslews were living here in the late 1500's. The new part was built by James Murgatroyd (wealthy clothier from Warley). When East Riddlesden Hall was first built it was owned by Cos Patric who was Lord of Bingley. It was built to live in and it was the Lords Manor. Another reason for it to be built was that the Saxons thought that the hill and the water below were sacred.
Taken from The rise of the old dissent, exemplified in the life of Oliver Heywood: Of the owners of Riddlesden Hall, Mr. Heywood's account is not favorable. In the time of the war it was sold to Mr. James Murgatroyd by Mr. Rushworth, a man of indifferent character, who reserved a room for his own residence, and as much corn and malt as would maintain him, but sold them also, and died miserably at

Keighley.

Of his two sons, the eldest, named John, died in York Castle, a prisoner for debt, and his younger son lived in an extremely poor condition at Riddlesden. The Murgatroyds were no better. John Murgatroyd succeeded his father; he was a profane debauched person; disinherited his eldest son, who married a daughter of Mr. Savile of Marley. The other four sons inherited the estate in quick succession, killing themselves by intemperance. When they were dead, the estate came to the eldest son, who enjoyed it five years, but was extravagant, and mortgaged it. There are further notices of misconduct, extravagance, vice and imprisonment, and finally the sale of Riddlesden-hall, which Mr. Heywood says was a magnificent house, built new by Mr. James Murgatroyd, who was accounted worth 2000/. a-year. It became the property of Mr. Edmund Starkey. "That family, the Murgatroyds, is the most dreadful instance in the country; all that know tell strange passages of them."

*********************
Riddlesden Hall - West, Keighley.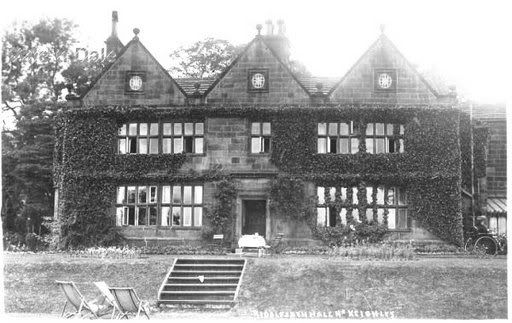 This was for a long time the residence of the Maud family. The house eventually came into the owner ship of the Leach family by marriage. Later John Greenwood of Knoll, Keighley, bought the house from Thomas Leach.
John Benson Sedgwick who was married to Greenwoods daughter Sarah lived here in 1857 until his death in 1873, Sarah continued to liver her until her death, in 1881 they had five servants.
*********************
River Worth House, see Ingrow House
*********************
Rockfield
Joseph Summerscales, Ironfounder [W.& S. Summerscales Coop Ironworks]. William Vint 1891
*********************
Royd House, Beechcliffe
1841 James Paget occupation farmer, acreage unknown. 1881 Thomas E. Smith Machine Maker And Farmer Of 66 Acres and family lived here.
Royd House, Long Lee

*********************

Rishworth Hall / Rushforth Hall (

Ryshworth Hall)

Bingley
1807



The Eltofts sold it in 1591 to Edward Binns & Abm Binns. It was later sold in 1672 to W Busfield by Abraham Bynnes esq. J.P. Others that have lived there are Alfred Harris, Mr Dunlope and Mr. Sugden. 1837 Frederick Greenwood Esq. is listed in White's Directory of 1837 as living here.
In 1844 Anne Marsh (Marsh Caldwell) writes: Mr. W

Ellis

and his sister Miss Fanny. Mr. Ellis the father (not at dinner) is a mill owner and has a mill just in front of Ryshworth drawing room windows. Mr. L. Briggs is recorded as living here in 1915

Taken from The rise of the old dissent, exemplified in the life of Oliver Heywood - Page 203: When the Non-Conformists were allowed to hold meetings in 1673 under licence from the king, Mr. Heywood obtained a licence for Rushforth Hall, of which Joshua Walker was the tenant under Mr. Busfield, who, however, soon compelled him to have the licence withdrawn.


*********************
Rushey Hall, Damems
Used to be called Rushyfall.
There are numerous entries in the parish register for the Ropers at Rushyfall in the early 1600's. We have found a burial entry for Sarah Roper aged 70 in 1825 at Rushey Hall.
*********************
Saint Ives / Harden Grange, Harden
Built 1616, the home of the Ferrands. William Busfield Ferrand inherited the estate in 1854 and changed the name to St Ives. Harden Grange was rebuilt in 1855. The 1852 OS map shows the access to the Grange being at Cross Gates Lane. The grand gateposts can be seen halfway up Alter Lane bridleway. The music room at Harden Grange holds a stained glass window designed in 1862 by Burne-Jones depicting the Wedding of Sir Tristram. friendsofstives.org.uk cecilhigginsartgallery.org fu jen White's Directory of 1837 give Edward Ferrand Esq, living at St Ives and Walker Ferrand , Esq at Harden grange.
The hall was used as a base by General Fairfax during the civil war; a table found in the house was inscribed: "This table was at Harden Hall when the troops under General Fairfax were encamped at Harden Moor MDCXLII. In the 19th century, the estate was called alternately Halton Grange and Harden Grange. The present name may be after a holy well in the area which is associated with the 7th Century abbess St. Iva. A granite obelisk near the lake commemorates the career of Busfield Ferrand (1809-1889), a Member of Parliament and magistrate.
*********************
Sandywood House Had been a House -Cotton Mill - Girls school for young ladies - Y.M.C.A - Crotona Youth Club - Keighley News Office








A house to have had such a varied usage as this one is hard to imagine.
We can see that during the so called refurbishments that the left side was sliced in order to be flush with North Street, the first and second floor windows on the right appear to be original. The right side looks like it may be the original gable wall. The refurbishments did the building no favors and while it is nice to see old buildings being put to good use, it is sad to see something that was so grand look such a mess.
Top right photo by Alan Smith. In the lower middle photo Sandywood House can be seen just behind the mechanic Institute building.

The house stood here long before North Street and Skipton Road were built, this would have been the last house before leaving the town on the road that would have gone approximately along Cook Lane and Lord Street, and then up Spring Gardens Lane, and was used as a landmark by people when giving directions.
We find the first reference to the house in 1720 by John Warburton who describes the way out of Keighley as from the Cross, along Cook Lane past Mr. Blakies house at Townfield Gate (north Street did not exist until 1786) and then to Sandywood House. It is also mentioned in the Kings Highway in Craven that tells us that the route to and out of Keighley was down Park Lane, Coney Lane to around the area that Fleece Street would later be and on to and past Sandy Wood House and Delf Close Gate at the foot of Spring Gardens Lane.

Believed to have been built as a house by John Oldridge then converted in to a mill for cotton, we have seen mention that this was the first Cotton mill in Keighley. We doubt that Oldridge built the original house, he either rebuilt it, or it was one of his ancestors that built it, if the date of build is correct at 1720 and Oldridge is supposed to have emigrated in 1819 he would have been a 100 years old. In Keighley Parish Church we find a tablet "John Oldridge, a native of Keighley, who died at sea on his passage from New York, 29th July, 1832. Hester Oldridge, his daughter, accidentally drowned in the Delaware 16 August 1820 age 24. She was disinterred in 1824, and re-buried in Keighley Churchyard. Also, Cyrus Oldridge, son of John, who died I3th. February, 1832, aged 29, and was buried in the vaults of Great Queen Street Chapel London".

We have read that the daughter who traveled out to America with Oldridge went to the dock to meet her sister who had traveled out to be with them, eager to embrace each other they ran, and sadly one of them slipped and fell into the water. It as also been said that she was the first body to be sent from America to England.

Oldridge spent a lot of money trying trying to make a drinking spirit, something in the style of whiskey from mint, this venture failed dismally. We have also read that he was persuaded to leave for America by the Sugdens, this might have been Cyrus Oldridge the son.
We have also read that Oldridge was also a manufacture of hair restorer of wide reputation called "Balm of Columbia". The large garden at the rear of the house was used for growing balm for the continued production of the remedy.

The mill was powered by water wheel from water obtained from two streams, one came down Highfield lane and came down near to where the Catholic Church stands, where it meets with another stream that came down Spring Gardens Lane, the two streams united where it was then carried across the road in a culvert to the wheel. It is from Hodgson's book that he mentions the Calvert across the road, but we have read of the stream running under the road and the house, making it's way down to Eastwood House. Hodgson also tells us that the wheel was connected to the basement floor and the power conveyed to the top story, and that it was here that Oldridge spun the cotton yarn.
1829 we found and entry in a directory: Academies & Schools, Sharman Elizabeth (ladies' day and boarding) Skipton road, we also found one for 1822, Sharman Miss, (girls) South street. It would appear that it was rented from the Sugden's.
When it opened and for how many years we do not know, what we do know is that it was a boarding and day school for young ladies and that the mother of one of the biggest textile families Clough, attended this school, and had she not, she might not have meet her husband as she was not a native of Keighley.

1834 we know that the property was owned by James Greenwood Sugden of Eastwood House, along with Strawberry Cottage, whether he actually lived there or not at any time we are not sure.
1837 the death of John Sharman of Sandy Wood House age 70.
1838 George Spencer, Attorney at law lived here before moving to North Gate House.
1841 Census shows the head of the household Catholic Priest Robert Gibson, Elizabeth Sharman is the School Governess.
1851 census and the head is George Smith, registrar of BMD's, his wife Elizabeth is a School Mistress. Mary Williams is Governess. The young ladies are taught music, singing and dancing. The ages range from 9 to 15.
Also but listed as a separate household is Solicitor William Burr and his family.
Death notice: Thursday, December 23, 1858 At Fulneck age 63 Miss Sharman formerly of Sandy Wood House.
1861 Census: Unmarried Sarah Sugden (of the Sugden's of Eastwood House) and her widowed sister Maria Louisa are here with two servants, a cook and a housemaid. We have read in a document stored in Keighley Library an extract of a letter from Tom C. Butterfield to Mr. Stansfield in 1913 which supposes that the school was run by Miss Sugden, the author does at the start of the letter point out that some of the facts might need verifying, and we suspect that the memory may well have played tricks on them unless Miss Sugden did run the school for a short time, but this is doubtful unless it was she who actually owned the house as the school transferee to Torrs Hall, Ingelton. I do not think it would be unreasonable to assume that she did own the house, as we know that it was the Sugdens of Eastwood House that had business dealings with Oldrige and it would not be too hard to imagine that the Sugdens acquired the house through those dealings and we know that James G Sugden owned the property, did she inherit from him?

1871 Sarah Sugden now aged 57 is still living there with three servants. The entry just says Sandywood, the entry after actually has the word house after it and this is for a William Plummer, a master at the Grammar School, he is living there with his sister Martha.
It is believed that after being a school it possibly became two dwellings, so from the above for 1871 I think this must be the case.
More than once applications were submitted to allow the selling of beer, the first attempt being made was by Isaac Bailey in September 1876 and at least two attempts by Joseph Dixon, the first being 19th August 1881 and then 16 Sep 1881 when the licence was refused, the Midland Railway Company were prepared to transfer licence of Midland Hotel Keighley as they had no plans to replace it. One person who objected was Pie Leach, he held the land next door at where he would build Balmoral House, what is now 114 North Street, and if you look up to the first floor, above the door you will see Pie left his mark.
In Hodgsons book which was published in 1879 he refers to the Bowling Green and Bowling Club at Sandywood house. The bowling green was where the mill dam had once been. We found an item in the Bradford Observer 1878 where the Bowling Club at Sandywood House had been used as a soup kitchen for the poor. We found another item in the same paper but for Oct 1882 where the club was to come to an end. Looking at the dates above for the applied licence, it is possible that the bowling club wanted to serve drinks. We then found another item which supports this. The sandy wood Bowling Club Limited, numbering about 100 members, with a capital of £4,000, raised by £1 shares, was formed in 1876, and has premises in North street, comprising reading, committee, card, music and billiard-rooms, besides curatorís apartments and a room for refreshments; at the back of the premises there is a fine bowling green.
1881 census shows William Taylor as the Club Proprietor, There is no sign of the address being Sandywood House, and we are not able to find it in the census, but going by the streets either side of this entry we feel that it is likely to be the old house, now divided into two. The address is shown as 78, North St, Keighley. 76 North St is James J. Biggs Letter Press Printer. The jump is then to 54 North St, this would take us to the other side of the town hall square, as there were no dwelling houses after Sandywood house till after the Town Hall Square, this gives us confidence that we are correct on our assumption. Going the other way is 80 North St and then to Sand Street. So either building had commenced at this part of the road, or the old house had now been spilt into 3 units. There is no mention of Balmoral House, so Pie Leach had not yet built his house, which would be the next dwelling up, now an Indian restaurant. In the trade directory of the same year we have found an entry for the bowling club, Sandywood Bowling Club, Allan Bradley Sec, William Taylor Curator, North Street.
In the letter mentioned above it goes on to say that the house was used as a bowling club and then passed to Mr. Woodrow and returned to a private residence. The letter goes onto say it then passed to Mr. Green Timber Merchant, which we have proved via the 1901 census.
1891 census shows Ellen Burns Dress and mantle maker with her elderly mother, sister and nephew, I think we can safely assume that it is back to being one dwelling.
1901 Census shows Joseph Green and his family with two servants.
1911 Samuel Laycock, fish, fruit and game dealer. His wife Lydia a dressmaker.
The W.M.C.A moved from their premises at 40 Cavendish Street to Sandywood House. We contacted the W.M.C.A to see if they could help us in our research, they were unable to provide comprehensive information but the details they did give have helped us narrow down the dates they occupied the house. Keighley YMCA was based at 40 Cavendish Street in 1910, but by 1913 had moved to Sandywood House and from an article in the Keighley News we know they were there in 1932.
1912-1913, the house was altered around this time and had come into the hands of Robert Clough of Yew Bank and it was he who rented it to the Y.M.C.A. While the house was undergoing the alterations a fire broke out, but due to the swift action of the fire brigade the damage was limited. In 1907 Robert Clough had promised to furnish rooms for the YMCA, but the KN failed to report at which premises this was for.

Crotona Youth Club. This was set up by Keighley Mayor John Henderson Esq JP, we know he held office 1935-1936 Sometime in the early 1900's it was reconditioned and renamed Crotona Buildings.
By October 1951 the Keighley News had acquired the building for their own use and they developed it incorporating the existing building which now had ground floor shops, one of which became the Keighley News advertising office.

Thanks must go to Alan Smith for digging out the census for us.
*********************
Seedy Hill House
In the 1851 census we find a 48 year old Thomas Bland, Worsted manufacturer (partner of 4) employing 135 hands. Using the walk order of the 1851 census, Castle Mill, Lund's Mill Row, consisting of four dwellings, Lund's Mill.
*********************
Shann Manor. Hawkstone Drive, Utley
Home of Raymond Marriner.
*********************
Shroggs, Steeton

Home of John Clough. Sadly demolished in 1994, The gate house still stands.
*********************
Southview, Woodville Road.
While driving around we spotted high up on the wall inlaid in stone some large initials which appear to be GB laid on top of each other, it is possible that this is George Burr Solicitor, more research needed.
*********************
Spring Gardens
Located where Holy Family School now stands, across the road from Cliffe Castle. 1820 and at his death 1832 Isaac Butterfield, his wife Sarah would live long enough to see Cliffe Castle finished. 1851 we find Benjamin Flesher Marriner. It is possible that Henry Seed Ale and Porter merchant lived here in 1861, but he might have resided in a cottage there.
*********************
Springfield, Skipton Road.


Now a doctors surgery. In 1871 and 1881 Richard L. Hattersley Machine Maker Employing 20 Men 74 Boys lived here.
*********************
Springhead House, Tim Lane, Oakworth.
Greenwood Joseph, esq. 1829 Then Hartley Merrall
*********************
STEETON HALLS
We apologies that there might be some wrong information re the Halls and Manors of Steeton, which of these was the site of the original manor house as not yet become clear to us. If you are using the below information for research we ask that you do not accept the below as fact. Any that relate to the building near the beck we think you can assume it to be the hall shown as the Low Hall.
1583 Anthony Garforthe paid £12 rent for the manor house.
Both were built on the site of earlier manor houses. The hall was rebuilt, according to a date stone, by the Garforth's in 1662. In the late 18th century a carriage drive and garden features were created, but after the sale of the hall in 1819 the carriage drive was redirected and around 1863 the hall was partly rebuilt. It is traditionally believed that a small plot of land to the rear of the hall, subsequently incorporated into a larger enclosure, was a former burial ground though no evidence exists to substantiate this (Clough 1886).
"The Manor-house called Steeton Hall, standeth at the north end of the said town upon the banks of a brook called Steeton Beck".
*********************
Steeton Hall: Steeton Low Hall. A hall as stood here for about 800 years (c1220). The present Steeton Hall was extensively rebuilt in 1662 and again in 1863, but originally dates from 1611.
Dennis Garforth (died 1578 aged 80). son of Richard, married one Thornhill of Burley nr. Otley, and lived at Steeton Hall. Rebuilt in 1674 by Thomas Garforth, only son of John Baynes Garforth, solicitor, married Catherine, daughter of the Rev. Robert Graham, and bought the Upper Hall which had belonged to the Currers. Soon afterwards, he took up residence at Steeton Hall until about the time of his death in 1811. He made alterations to the Hall (about 1780-1790). In the 18th & 19th centuries the grand entrance was where the war memorial now stands along the side of Steeton Beck. From around 1780 the carriage way that led to Steeton Hall started with Chinese-style gates and cascades. and built the ornamental wall on Hawkcliffe Top. He demolished cottages in the field where the church now stands, and on both sides of the brook below the bridge near the cornmill.
Steeton Hall was sold to the Sugdens in 1819.
Christopher Netherwood, whose mother was a Garforth, was living at Steeton Hall in 1822 when it belonged to the Sugden's. Christopher Netherwood Esq lived here and later built Cliife Hall about 1833.
1842 John Greenwood Sugden was living at the hall, moving back to Eastwood House in 1851
Joseph Craven lived here, leasing it off the Sugden's, he also rebuilt half of the property in 1863.
Before 1863 Mr. Joseph Riley ran it as a boys boarding school.
Sam Clough bought the hall in 1904. Sam Clough was Sir Robert Cloughs brother, of Greenbank, Greenhead Lane. and had Clough's Mill at Steeton. His daughter Dorothy was prominent in the Girl Guides a movement with which she worked all her life.
In 1940 and Miss Dorothy Clough in the 1960's arch.wyjs.org.uk homepage.mac.com. Former home of Dorothy Clough, was opened as a Restaurant by Barry Robinson on 25 July 1983. For more about Dorothy please see the family page
*********************
Steeton High Hall:(Elmsley House) Initialled and dated HC/AC extended and altered 1921 by Godfrey L Clarke. AD/1674
| | | | | |
| --- | --- | --- | --- | --- |
| | | | | |
Rebuilt in 1674 by Hugh & Ann Currer upon the site of an even older hall. 1705 William Currer enlarged and altered the hall.
Thomas Garforth bought the hall in 1786. Thomas Garforth, only son of John Baynes Garforth, solicitor, married Catherine, daughter of the Rev. Robert Graham, and bought the Upper Hall which had belonged to the Currers.
In 1897 it became the home of photographer Alex Keighley. Until his death in 1947, then taken over by his son, Gilbert. Gilbert sold the hall in 1953 to H.V. Jackson.
In 1983 it was bought by Mr. and Mrs. Maberley who turned it into an Allergy Clinic, which closed in 1999
Steeton High Hall is currently owned by the diocese of Bradford, and is know as Kadugli House.
*********************
Steeton Manor. c1894 by Sir Swire-Smith

*********************
Stockbridge House
1898 J Mitchell.

*********************

Strong Close House, Keighley.

Strong Close Park, set in 15 acres of parkland alongside the River Worth. There was a house here before Craven built the mansion. From the 1851 map we can see the house. People we have found living at Strong Close prior to Craven building his mansion are: Martin Smith 1841 and 1844 for his death. Christopher Smith, from Long Lee owned lands and property at Strong Close.
Mansion house built for Joseph Craven for size and cost ranked next to Cliffe Castle being built in the late 1850's. By 1859 Joseph and Elizabeth Craven and their young family were in suite and enjoying their new home.
Demolished in 1910.

In 1927 B Scott, Cab Proprietor and Carrier was running his business from Strong Close Stables.
| | | | | |
| --- | --- | --- | --- | --- |
| | | | | |
| 1919 The park area with the new houses | | 1933 There is a bowling green, cricket field and a pavilion | | 1962 There is now the addition of a nursery and tennis courts |

***************
Stubbing House, Keighley
Stubbing House, not so much a house as a hamlet consisting of 15 or more houses. We are aware that in early times that the Rawson family were a prominent family in the area, and that a branch of the family lived there. From information in the Parish registers that in the late 1500's that the families of Leach, Walsh, Wood and Naylor were here. For the Rawson family we were able to pick up on a complete family headed by William, with baptisms starting in 1627, all recorded in the Bingley Parish records. We then pick up again in the early 1700's and Thomas Rawson of Stubbing House family are recorded in the Non Conformist Register.
A mill was established here in 1787 Built by Samuel Blakey.
Taken from KEIGHLEY, PAST AND PRESENT Rawsons of Stubbing House, a family of respectable yeomen or gentlemen, who resided there for many generations.
*****************
Stubbing House
While wondering around Utley Cemetery we noticed a grave for William Smith, giving his abode as Stubbing House, near Keighley. We wonder if this could be Stubbing House at Sutton.
*********************
Stubbing House, Haworth
Home to the Greenwood's
*********************
Sutcliffe House
Near to WorthVille. In 1881 occupied by Robert Stansfield, Vicar Designate Of St Peters Keighley.
*********************
Sutton Hall, Sutton
Designed in 1893 by Samuel Jackson for John Hartley of Greenwood Mill. Sold in 1933 to E. Turner. Demolished in the 1940's. The gate house still stands.
*********************
Threap Royd, Low
*********************
Theap Royd
Built c.1851 and are probably the oldest buildings still standing in Beechcliffe. Residence in 1861 of James Smith (brother of Prince Smith) Machine maker, his wife was Frances Ellison, daughter of John Ellison of the Crown Inn, Church Street. When James lived there he was employing a man to farm the 40 acres that went with the property.

*********************
Thorncliffe, Dawson Road
1881 Thomas Henry BURR Solicitor, with his mother and sister. 1901 John Henry Roper
*********************
Thwaites House
Re Built in 1780 by Thomas Rishworth, it would seem that the property went to the Rishworth from marrying into the Clapham family who had bought it in 1603 from the Fairfax family. This was the address of William Cockroft Greenwood at his death in 1856.
*********************
Tower House, Hollings Bank Lane
Google street view
*********************
Townfield House, Townfield Gate, Cook Lane.
Built by one of the Blakey's We suspect John who had built West Greengate Mill. We know from trade directories and Parish records that John Blakey, who is described as a gentleman was living here in 1822, and his widow until at least 1834.
1829 we find an advertisement for a Mansion house at Towngate, in the occupation of Mrs Blakey with barn and stables. Also four dwelling houses adjoining the mansion occupied by Ann Richardson, Sarah Booth, Thomas Yoaman and John Bradley. Also six cottages occupied by John Lindley, William Sharp, Edward Bradley, John Holmes, Joseph Driver & Thomas Gill. An excellent barn and two other cottages occupied by Henry Beacroft, Sugden Pearson & Edward Bradley. Three other cottages occupied by James Gill & others. The advert continues listing other properties and land in the Keighley area.
It, or a replacement house would later be occupied by Dr William Dobie late 1800's, we know he was there in 1898. Wheatherhead Solicitors there in 1939 till at least 1964, but we have also read it was demolished in 1967.
Dobie was not only a physician but also a magistrate.
William Ruddock is listed in The British Medical Directory for England, Scotland, and Wales for 1837 at Townfield Gate.
From a newspaper, The Leeds Mercury January 26, 1839 we read that a Mr. Crellin hired a horse from Mr. Hutchingson and a gig from Mr. Wilkinson of Townfield Gate. Crellin had attempted to con Hutchingson & Wilkinson, and it would transpire, a number of other Keighley people and was put to trial at Salford Petty sessions.
From the 1956 Telephone directory we can see that T. Bailey is running a Taxi service here.
*********************
Tewit Hall, Oakworth
Bill O'th' Hoylus End in his book tells us that Pie Leach would often ride up to the hall in his gig and that he had in mind to buy the place.
While wondering around Utley cemetery we came across a grave which told us that this was the abode of Hugh Ellison in 1899, and it is fortunate that there is a photo of it here
Thorncroft
1898 Summerscales.
Yew Bank, Skipton Road.


In 1881 William Town Paper Manufacturer lived here. Later Sir Robert Clough
*********************
Vernon House, Now flats.
Samuel Clapham is recorded living there in 1901 (Occupation Summerscales clerk) and 1913
*********************
Victoria Hall, see Eastwood House
*********************
Walk House
Next to Walk Mill, 1851 occupied by Elizabeth Craven nee Rishworth, widow of John Craven. Occupied in 1881 by John Riley Wool Buyer from Bradford.
*********************
Weet Head Farm (Wheat Head Farm)
When Holmes Clapham of Utley died he left a widow Mary and a son John. In 1752 Mary bought Weet Head Farm from a gentleman called Sutcliffe. The farm was left to Mary's grand daughter Judith. Judith married a gentleman called Green and went to live in Hull and died there. The farm was passed back to the Clapham's of Utley and for a time Sarah and Ann Clapham lived there.
*********************
Westfield House, Spring Gardens Lane
1881 John Laycock Ironmonger (Employ 3 Journeymen 2 Labrs 5 Apprentice) lived here.

*********************
West View House, Oakworth Road


William Thompson, Worsted Manufacturer & later Commission Weaver, lived here in 1871 till his death in 1890.
Harrison Thomas 1913. Now the Grafton Club.
*********************
Whins, New Road Side. The two photographs on the right provided by Chris Hand
It has been said that when BUTTERFIELD decided to demolish the old Cliffe Hall in order to start from scratch and build Cliffe Castle, the house was taken down and rebuilt by
James WRIGHT
at Whinswood, and re-named 'The Whins'.
Certainly, the WRIGHTS were resident at 'The Whins' in 1881, which fits in about right with the time that Cliffe Castle was built. Part of a letter, to who we do not know, but it starts off: Tell James Wright ....
asking them to ensure that James Wright takes all fire precautions at 'the mansion'. This confirms his stewardship there. In the account of James Wright's funeral, it definitely says that the old Cliffe Hall (or Netherwood Hall as they called it) was dismantled and re-built as 'The Whins'.
James Wright Owned four mills, Damside, Lumbfoot, Prospect and Ingrams mills.
1925 A. Stell
Taken from the Yorkshire Post: Glenn and Nigel Brett bought the house in 2007. "We started researching the history of the house and the more we learned, the more we felt we had to be true to it and to the person who built it," says Glenn. That person was James Wright and as the Bretts put a face to the name via a portrait, the pressure to redeem the sad, semi derelict building intensified. The Whins was built in the 1870s but it had a former life as Netherwood, the home of textile magnate Henry Isaac Butterfield. Mr Butterfield was demolishing Netherwood to make way for his extravagant Cliffe Castle and he gave his old home to his steward Mr Wright, who rebuilt it on a prime spot on Halifax Road. Earlier last century, the house was split into flats and it later fell into disrepair. The previous occupants had re-roofed the house and were living in two rooms downstairs when the Bretts took over the renovation. The grounds were overgrown, ceilings had collapsed and the second floor was wet, rotten and full of pigeons. "It was hard at first and we lived in three rooms surrounded by boxes. We hadn't tackled anything like this before, but our late father was a builder and so we knew good work from bad, which is why we went through so many trades people," says Nigel. "Finding the right people to tackle a place like this was absolutely the most difficult part for us. "It was all incredibly involved to the point where we also had to have hand tools specially made for the joiners because modern tools weren't big enough to cut new door frames to replicate the one original we had left." The Bretts rewired, lime plastered and installed new windows and reclaimed flooring, including Victorian tiles in the hallway. They restored the period features that had survived, including a marble fireplace covered in paint and decorative plasterwork that had been damaged. One of the most important jobs was renovating the stunning oak staircase, which was a mammoth task as it leads to two floors, which now house six bedrooms and four bathrooms. Nigel and Glenn also decided to reinstate steps up the tower to a parapet.
*********************
Whinswood House
We have found a number of entries in the death register for Stell family at this address prior to 1840.
*********************

Whinburn, Hollins Lane


Large 16 bedroom house with attached stable block. C1890, rebuilt 1912-13 to the designs of Sir John W Simpson and Maxwell O Ayrton of London. Built for Prince Smith. The market cross which used to stand in Church Green, was moved into the grounds of Whinburn.
In 1891 and 1881 Percy Milligan General Practioner M.R.C.S.E.L.Sc. Lond lived here.
1920 voters list Prince Smith is registered here.
1940 Whinburn was used as a training centre by the National Institute of House-workers and in the early 1950s was purchased by the Local Authority for use as a school, initially residential. Converted into a school in the 1950s and was a special referral unit until 2002 An advertisement we found: 1874 RESIDENTIAL ASSISTANT MATRON up to £1413 The successful candidate will work at Whinburn Residential School, Keighley, for junior children who are delicate.
In 1911 Prince Smith had a large staff living in the house, a governess, parlor maid, two housemaids and a cook. At the cottage was the coachman, his wife and a groom. At the lodge is a family of seven, mother, father and son gardeners, another son is a farm laborer, the daughter is a telephone operator and the two youngest are school children.
There is a photo at savewhinburn risk.english-heritage.org.uk
James Sheldon bought the property in 2008
*********************
Wildfell, Slaymaker Lane, Oakworth

In 1901 we find Percy Clough here, previously he had been living at Haincliffe House, and later he would move to The Knowle. A Miss Cockshott lived here but we have yet to ascertain more information.
*********************
Woodbine Cottage, Highfield
1898 C.H Foulds
*********************
Woodville, Spring Gardens




1872 we find William Laycock here. James Ellison Haggas J.P 1881, 1898 and 1913.
In the book "The opulent eye: late Victorian and Edwardian taste in interior design" there is an image of the dinning room from 1907.
Burgess Roll for 1947 James and Alexander Haggas.
*********************
Wood View, Utley
1901 the home of William Sugden Clapham
*********************

Woodworth House, Halifax Road.
Robert Clough. Now in the hands of NHS, turned in to flats and use for "independent living". It is believed that John was planning to build a grand new house away from the mill for himself and his family called Woodworth, there are plans at Keighley library and they are dated before his death. His son Robert continued with the plan but on a less grand scale and we found him there in the 1871 census, he was at Beech Cliffe House 1891. After the Clough's Alfred Smith of Skipton who was married to Ann Elizabeth Hattersley lived here and was here in 1925.

*********************
Worth House, Keighley
The address given for the death of Thomas Clapham in 1830
*********************
Worthville.






Photo on the left shows what used to be the entrance.
Plans for building were submitted around the 1850's
The author of Keighley Past and present says "The best modern building to our liking is Worthville, the Elizabethan seat of William Marriner, Esq. In a few years the more mature growth of the surrounding shrubs and trees will complete the attractions of this admirably-situated villa, and render it the most striking object in the landscape. We rarely look upon it without thinking that its position is alike suitable for the philanthropist to refresh his thoughts, and warm his heart with purposes of love to his fellow-man as he gazes on the thriving town which nestles at the foot of the hill, or for the student of nature to furnish his
mind with sweet reflections on the beauties of creation, as he contemplates the diversified and picturesque scenery in the distance''.
We find William Marriner here in
1861
, having been at Far Green Gate in 1851. Edward David Arthur Marriner lived here in 1881 and 1891, Edward had previously lived at Broom House. William Lister Marriner was here in
1901
having been at Green Gate House previously. 1911 We find a Mr. Coats resident, with a Mr. Sutcliffe at the cottage. 1925 H.E Philpotts. Was used in the second WW to house refuges. William B Naylor.
*********************
Wycoller Hall, Wycoller.


Built by the Hartley family at the end of the 16th century. Wycoller was subsequently extended in the 18th by Squire Henry Owen Cunliffe as part of his campaign to attract a wealthy wife.
*********************
Copyright valendale 2012